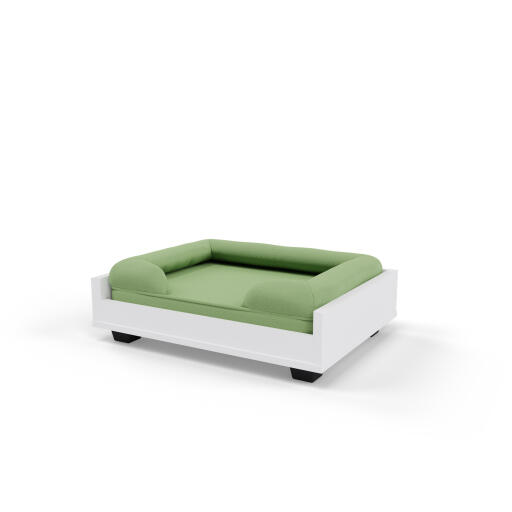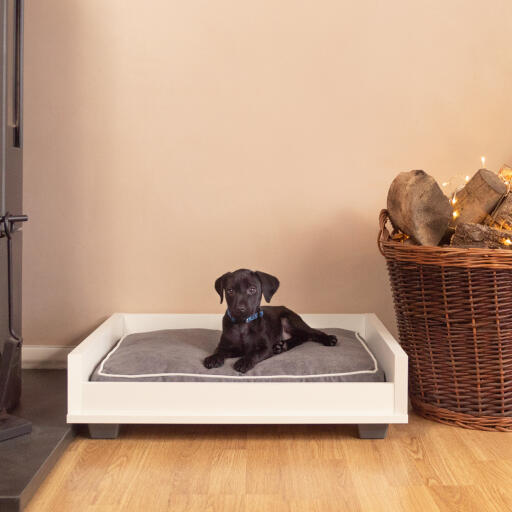 Fido Dog Sofa Frame Small with Bolster Dog Bed Matcha Green
Checking stock in our warehouse...
Treat yourself and your dog with the Fido Dog Sofa Frame. Modern and minimalist, it's the perfect way to add the finishing touch to your home. It works with any dog bed to create a snug and comfortable place for your dog to rest. Raised off the ground on legs, it keeps your pet out of drafts and the sturdy frame protects the bed's upholstery and traps debris, keeping your home tidier. Dogs like to feel secure when they are resting, and placing their dog bed inside a frame to create a dog sofa is a great way to achieve this. It's easy to remove your dog's bed for cleaning, and the frames surfaces can all be wiped clean. Unlike with an all in one sofa bed design, you will be able to replace only your dog's bed when it's getting a bit worse for wear, which is much handier and more economical. The Fido Dog Sofa Frame works perfectly with the luxury Omlet Bolster Dog Bed. The cushioned bolster shape is deep filled and designed to support your pet's head, offering ultimate comfort and relaxation. The premium memory foam dog mattress is the best you can give your pet; it moulds around your dog and gives unparalleled support for a deep, dreamy sleep. Don't worry about muddy paws or puppy accidents, this luxury dog bed's removable cover is made from long lasting, durable fabric that is machine washable time and time again, ensuring complete practicality. The robust stitching is strong enough to withstand daily use from all dog breeds. The memory foam mattress is in a water resistant casing, within the stylish fabric cover, to keep the foam hygienic and odour free. The memory foam dog bed is available in three contemporary colours with a subtle, woven, diamond geometric pattern. Choose from soft, elegant grey, rich, forest green or for a striking accent the vibrant, rose pink. Whichever you choose, Omlet's bolster bed will match the quality look and feel of your other soft furnishings ensuring your dog's bed is a part of the home just like they are part of your family.
Fido Dog Sofa Frame Small Internal Measurements:
Length 630mm
Depth 472mm
Height 118mm
Fido Dog Sofa Frame Small External Measurements:
Length 684mm
Depth 520mm
Height 181mm
Which Size Should I Choose?
Choose from two sizes to suit your dog's breed.
The Small (fits a 24 in Dog Crate / Fido Studio 24 / Fido Nook 24 / Fido Classic 24 / Fido Sofa Frame Small) is perfect for smaller dog breeds up to 18kg like Yorkshire Terriers, Cavapoos and French Bulldogs
The Medium (fits a 36 in Dog Crate / Fido Studio 36 / Fido Nook 24 / Fido Classic 36 / Fido Sofa Frame Medium) suits breeds from 19-27kg such as smaller Labradors, Spaniels and Labradoodles.

Available in two sizes, Small and Medium.
Fido Dog Sofa Frame Small with Bolster Dog Bed Matcha Green