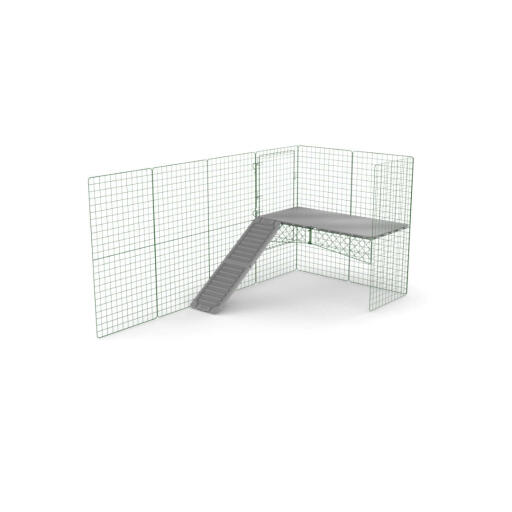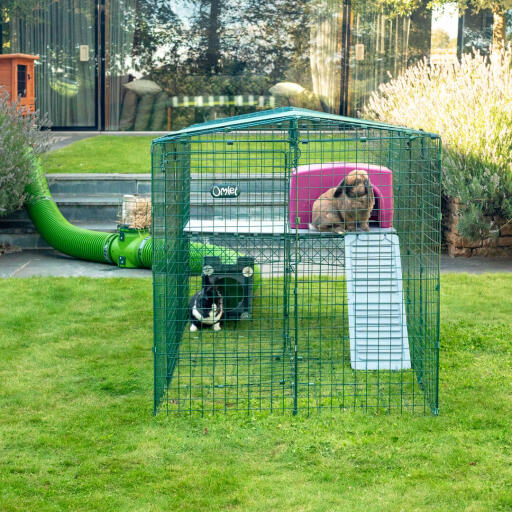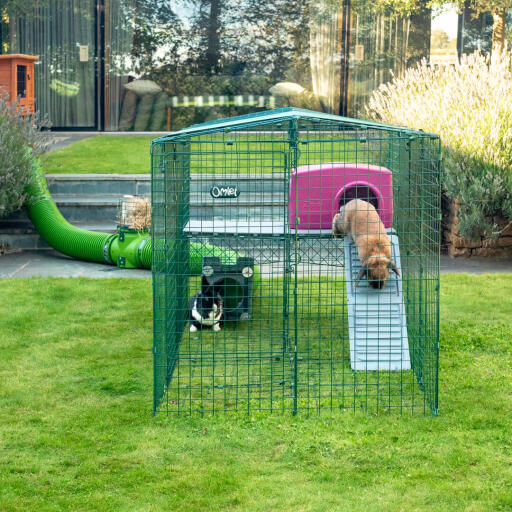 Checking stock in our warehouse...
£74.95
Give your rabbits more space
with Zippi Rabbit Platforms from Omlet. Designed to easily clip onto Zippi Runs, these strong platforms enrich your bunny's run with
new areas to explore
. Hopping up and down the ramp will strengthen your pet's muscles and by adding a Zippi Shelter and Caddi Treat Holder you can
stimulate more of their senses in new and exciting ways
. Adapt and expand your Zippi Rabbit Platform set up at any time to create new playgrounds for your rabbits to enjoy. The Zippi Rabbit Platforms - 2 panels pack includes two floor panels, which can fit to a Zippi Run Double Height that is two panels wide, and a ramp for your rabbits to hop up. It also includes two support panels which are attached to the underside of the platform and the side of the run for additional stability.
Note: Allow two run panel lengths (96cm) for the rabbit to safely run down the ramp. Zippi Platforms should be fitted to a double height run for rabbits.
Find out more about Zippi Rabbit Platforms
here
.
Dimensions
Floor panel space: 96.8 x 48.4 cm Ramp: 84 x 24 cm Panel thickness: 2.5 cm
Zippi Rabbit Platforms - 2 panels
All Hail my the Zippi Platform King!
I could NOT be happier with this purchase. My sweet bun-buns are so happy with the added space this give them and the entertaining value of climbing to a second level and having a throne to sit on!
Review for:
Zippi Rabbit Platforms - 2 panels
This reviewer has 2-4 Lionhead pets
My rabbits love being up high and often go up to sit on the platform even when I haven't put their forage up there.
Review for:
Zippi Rabbit Platforms - 2 panels
This reviewer has 4-6 Netherland dwarf pets
I added the platforms to my zippi run that I use for my juvenile chicks until they are old enough for the big girl pen. They love sunning themselves on the platform, and let's be honest they poop everywhere! I can easily spray off their droppings with a garden hose and keep these platforms clean. The ramp also has good spacing on the bars so that my chicks can easily climb them.
Review for:
Zippi Rabbit Platforms - 2 panels
This reviewer has 2-4 Americauna Chicks pets
The panels were easy to install and our bunny absolutely loves having a new vantage point to look out from.
Review for:
Zippi Rabbit Platforms - 2 panels
This reviewer has 1 Heritage Silver Fox pets
Great additional run enrichment
Great attachment for the Zippi run, creating another level for bunnies to explore and shelter under. It was fairly easy to install single-handedly with clear instructions. One rabbit was up there like a shot, whilst it took our other rabbit a couple of weeks to become confident using it, despite scattering treats to help encourage her. I'd definitely recommend the platform, especially if your rabbits live on just one level as it really adds another dimension, and the modular design means you can configure it to suit your layout. The one downside is that it makes it much more cumbersome to move the run to fresh grass without a second pair of hands, but a small price to pay for the extra exercise & exploration space.
Review for:
Zippi Rabbit Platforms - 2 panels
Read more reviews