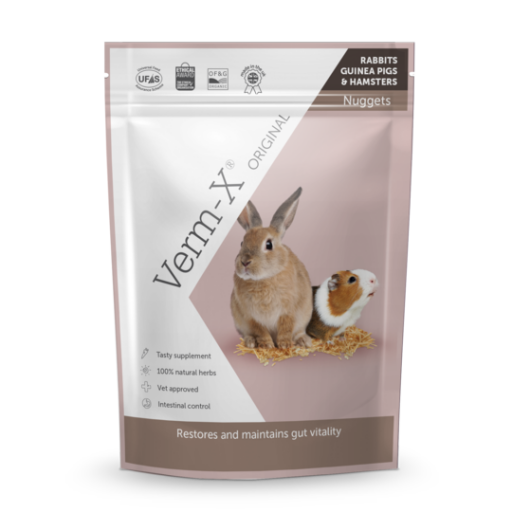 Checking stock in our warehouse...
£6.00
A natural control of all known internal parasites
It comes in a nugget form and will last 1 rabbit about 2 months
Ingredients: Verm-X, alfalfa, wheat, molasses, pre-biotic (saccharomyees cerevisiae), pro-biotic (toyocerin), soya oil. Product analysis: Oil 3%, Protein 13.5%, Fibre 17.5% and Ash 9.5%.
Dosage: Add one heaped scoop into daily feed ration. (Scoop included).
180g
Can also be used for guinea pigs, hamsters, and all other rodents. See back of pack for individual dosage instructions.
Verm-X Herbal Nuggets for Rabbits 180g
GLAD THERE ARE THINGS OUT THERE TO HELP RABBITS AS THEY ARE SUCH WONDERFUL PETS. ONE OF THE PETS THAT ARE SADLY NEGLECTED AND/LEFT IN SMALL HUTCHES. OUR RABBITS ARE ADORED, SO WE MAKE SURE THEY ARE IN GOOD HEALTH - ALWAYS X
Review for:
Verm-X Herbal Nuggets for Rabbits 180g
Write a Review