Win Tickets to Cox & Box - Mrs Bouncer's Legacy
Win a Family Ticket to Cox & Box, Starring the Eglu Classic!
Chickens in the Theatre
This Summer we are very eggcited to be sharing the joy of keeping chickens with the folks at the Stephen Joseph Theatre in Scarborough. Running through July and August, their production of Sir Arthur Sullivan's Cox & Box will star an Eglu Classic and some speggtacularly talented hens.
Win Tickets
We've teamed up with SJT to offer one family the chance to go and watch this fantastic performance, with refreshments thrown in. There's a family ticket (for two adults and two children), to any performance of Cox & Box up for grabs, plus your choice of drink, or an ice cream, per person.
About the Play
Cox & Box – Mrs Bouncer's Legacy
is a musical play about deception, international relations and chickens. Sir Arthur Sullivan's one act comic opera has been adapted, with a sequel, by Chris Monks and Richard Atkinson.
Cox & Box
by Sir Arthur Sullivan and F.C. Burnand - 1866. Cox is an apprentice hatter who works by day, and Box, a printer who works by night. Under the swift broom of landlady Mrs Bouncer, the two unknowingly share the same room…but that's not all they have in common. Tempers flare and it's not long before the guns come out.
Boks & Cocks
by Chris Monks and Richard Atkinson - 2016. A recently elected government has repatriated all migrant workers. Twin sisters Urszula and Krystyna are secretly sharing a room in a rundown B&B and it's only a matter of time before their unscrupulous landlord Bob Narks finds out. But further outrageous revelations (and livestock) are set to come out of the woodwork.
How to Enter
For your chance to win a family ticket (for 2 adults and 2 children) to Cox & Box, plus refreshments, simply answer the question below and pop in your details. The competition closes at 11:59pm Friday 4th July.
About our Friends
The
Stephen Joseph Theatre
, in Scarborough, is a cultural icon of the Yorkshire region, providing accessible, high quality theatre for audiences worldwide since 1955. The SJT is known for its world premieres of almost all of Alan Ayckbourn's 75+ plays and its commitment to new writing. It is home to excellent drama, music, films and comedy, as well as the musical adaptations of Artistic Director Chris Monks. To find out more about their productions visit the
SJT website
.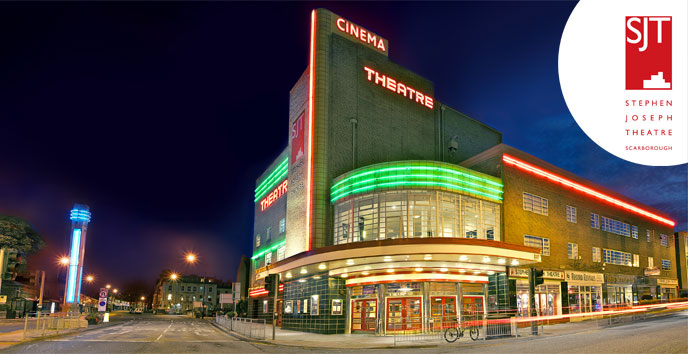 Sorry!
This competition has now ended. If you've won, we'll let you know soon!
Terms and Conditions
To enter this competition, you must be both a UK resident and over the age of 18 at the time of entry, unless stated otherwise in the competition terms.
This competition is not open to Omlet employees or members of their immediate families.
Likewise, it is not open to the Employees of Omlet Partners who may be involved in promoting this competition.
Omlet may cancel or amend any competition, competition information, or these terms and conditions without prior notice. Any changes will be posted either within the competition information or these terms and conditions.
All entries must be made using the form on the relevent competition page.
No responsibility can be accepted for entries that are lost or delayed, or which are not received for any reason.
The winner will be chosen at random from all those entrants who have selected the correct answer or prize-winners will be selected and notified in the manner set out in the Competition Terms. No prize will be awarded where any entrant has committed any form of misconduct (as determined by Omlet Ltd in its sole discretion).
Where Entries are judged on artistic or other subjective criteria, Omlet Ltd reserves the right to set amend the criteria used to judge Entries.
Only one entry per person.
If you win, we will notify you by email.
If we do not get a response to the email within one week, the prize will be offered to a runner-up.
If any person to whom the prize is offered does not respond to within one week, the prize will be offered to another randomly selected entrant.
Our decision will be final, and no correspondence will be entered into.
The prize is not exchangeable for cash or any other prize.
If, for any reason, an advertised prize is not available, we reserve the right to offer an alternative prize of equal or greater value.
Incorrectly completed entries will be disqualified.
Omlet Ltd will use any personal information that you provide with your Entry for the purposes of the Competition and, where you have given your consent, for marketing purposes including the distribution of regular email updates or newsletters. Any personal information relating to entrants will be used solely by us in accordance with applicable data protection legislation.
In the event that Omlet believes an attempt has been made to artifically influence or manipulate the outcome of the competition, we may choose too declare all entries invalid and to re-run the competition at a time of our choosing. In the event this occurs you will be notified via email.
Anyone attempting to artifically influence or manipulate the outcome of the competition will be excluded from this and all future Omlet competitions.
All prize-winners unconditionally agree (as a condition of accepting any prize) to:

the use of their name, one or more photographs of themselves looking happy with their prize; and
co-operate with or participate in any other reasonable post-competition publicity.