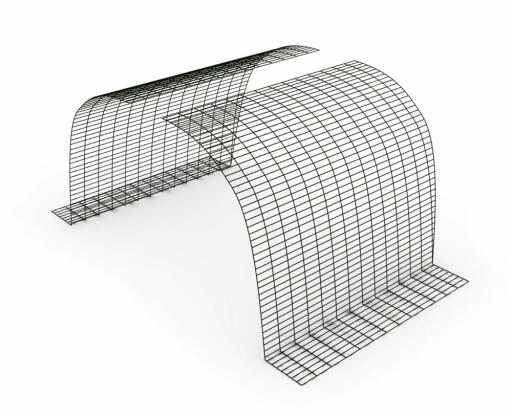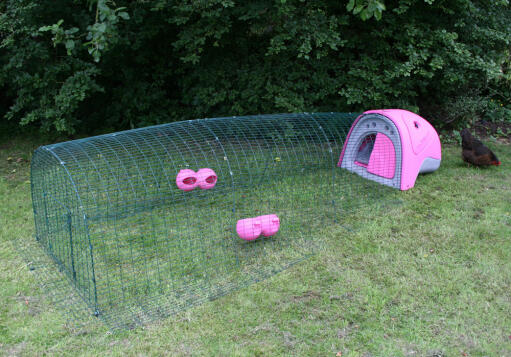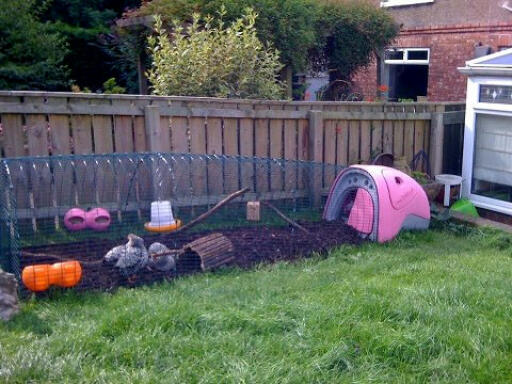 Checking stock in our warehouse...
£100.00
The run extension kit A adds a further 1m length to your 2m run, and then allows you to add as many kit B run extensions as you want. You should buy this if you want a 3m run. These extra panels increase the size of the area that your chickens and rabbits can explore in safety. They are made of the same strong steel weldmesh coated with the durable PPA coating and come with the anti tunnel skirt.
The panels are specially shaped to convert the angle at the end of the run to the vertical (see side view bottom left). Your existing end panel with the door in it will fit on the end of the longer run
You can download instructions for fitting your run converter here
Please note this product is not intended for use with the Eglu Go.
Patent Pending. Design Registered.
Eglu Classic Run Extension Kit A
Easy to assemble, and well made.
Review for:
Eglu Classic Run Extension Kit A
This reviewer has 2-4 Light Sussex and Col pets
Good product - no instructions
The extension was as described and we love our eglu so knew what we were getting. However we did have to search online for instructions, there was nothing in the box and there have clearly been different types over the years. Not a major problem but paperwork would have been nice. Lizzie is enjoying her new space and it now means we qualify for the minimum area required by our local rabbit rescue centre. (Not enough with the basic run - too small, 32 square feet min required.)
Review for:
Eglu Classic Run Extension Kit A
Really easy to fit and put together
Review for:
Eglu Classic Run Extension Kit A
Awesome product. Easy to fit and made a big difference to our 5 Guinea Pugs with even more space to play
Review for:
Eglu Classic Run Extension Kit A
The gaps between the wire rods is different from my original purchase and at times I found it difficult to line up and get the one or two of the clips on. Also I couldn't understand why two of the bottom corners of the extension were bent inwards, which when the extension was erected were diagonally opposite each other not directly opposite each other. Otherwise, a great product as usual from Omlet.
Review for:
Eglu Classic Run Extension Kit A
Read more reviews