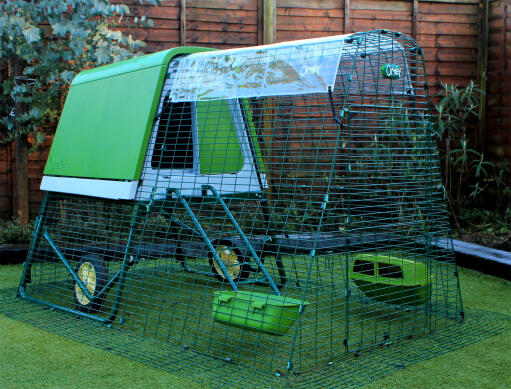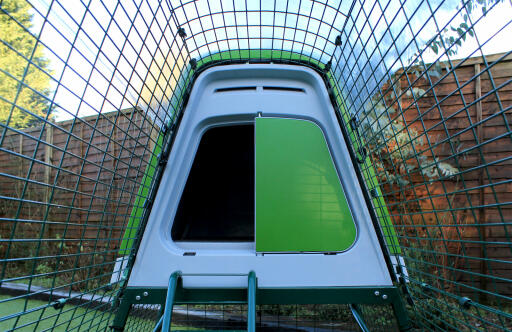 Checking stock in our warehouse...
£16.95
This product will cover the majority of the top, and some of the side of the Eglu Go UP Run, providing your chickens with a dry area to sit in when they want protection from the rain. This cover is made from thick, clear plastic, allowing sunlight through whilst keeping the rain, hail and snow out. Measures 65 x 85cm. Complete with bungees for easy attachment. Exact material and eyelet specification may vary.
Clear Cover for Eglu Go UP
The cover is well made and sturdy. I bought it because during winter, I did not want to obstruct light from the run, but also wanted to offer some immediate protection during sudden light rain or snow. I leave it on all the time, and it has lived up to my expectations.
Review for:
Clear Cover for Eglu Go UP
Does what it says on the "tin"
Perfect rain cover which I've put over the cover that came with my Eglu Go-up which, after 14 months was suffering from Welsh-weatheritis!
Review for:
Clear Cover for Eglu Go UP
Very good, well worth having
Review for:
Clear Cover for Eglu Go UP
chooks went immediately under this cover when it started to rain!
item as described, easy to attach & move around, super fast delivery, well packaged, fantastic quality Thanks Omlet! from lynne & some very happy hens
Review for:
Clear Cover for Eglu Go UP
Quality plastic and good strong eyelets. Good to be see through - all my other tarps give a dark environment. Disappointed with the size. Even though I bought 2 they cover very little of the run. I would like to suggest a method of attachment which allows them to be anchored to the bottom of the run - the elastics leave a gap and consequent draughts at leg level. Expensive for what they are/size.
Review for:
Clear Cover for Eglu Go UP
Read more reviews