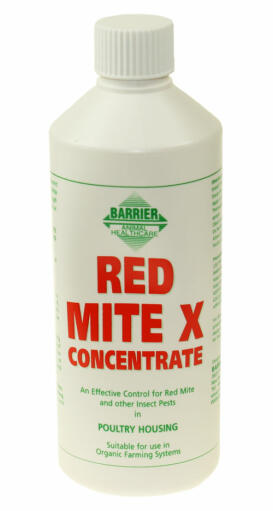 Checking stock in our warehouse...
£19.99
This is an effective product that cleans and disinfects animal housing and controls and eradicates red mite. It is also effective against other mites, ticks, fleas and pests. Barrier Red Mite X Concentrate has a sticky consistency that will immobilise pests, causing them to die. It is safe to use around feeding areas and will not harm your chickens. This product should be diluted before use and there is enough to create 10L of solution. Please use according to the instructions on the bottle.
Barrier Red Mite X Concentrate - 500ml
I Purchased this product some weeks ago and it is fantastic.
Review for:
Barrier Red Mite X Concentrate - 500ml
This reviewer has 10+ pigeons pets
Started using Barrier products in our hen house quite a few years back and have never had a problem with mites or other parasites since. Do be aware though that nothing will penetrate under roofing felt, where mites love to hide, so replace the felt, then use the concentrate and dusting powder regularly to keep your girls happy.
Review for:
Barrier Red Mite X Concentrate - 500ml
Read more reviews