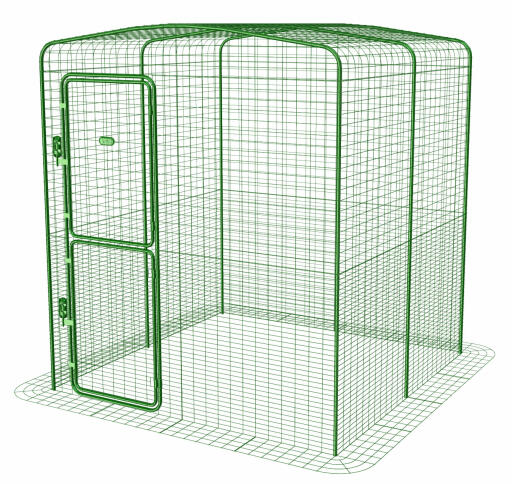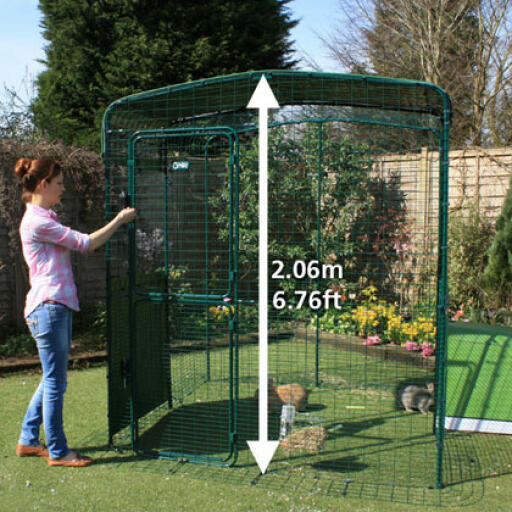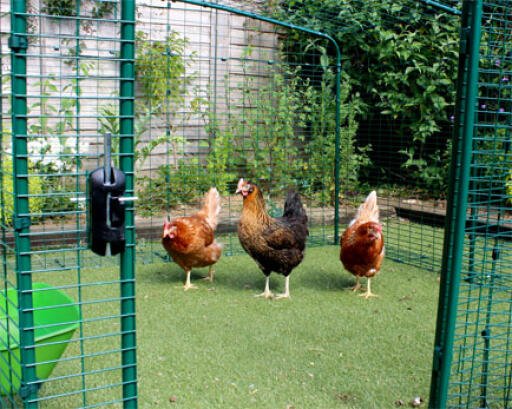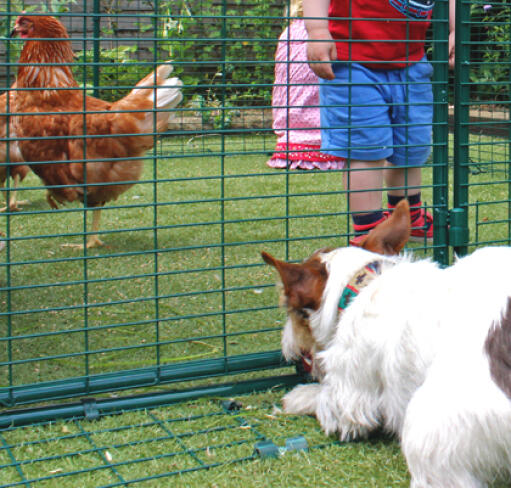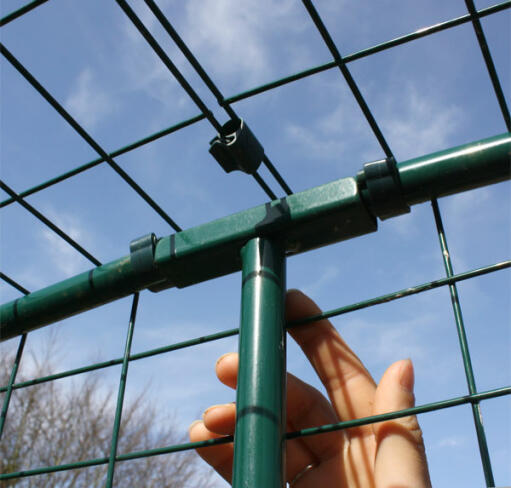 Checking stock in our warehouse...
£629.00
Choose from two heights
The new Walk In Chicken Run is available in two heights. The Hi-Rise version allows you to literally walk straight in. You can then spend more time with your chickens, tidy the run and top up food and water containers, all with the greatest of ease. The Lo-Rise version is a new concept, giving your hens plenty of secure floor space, at a lower height and a lower price (of course if you are less than 1.16m tall you can still walk in).
Security
Keeping your chickens safe in an attractive and spacious environment is what the Walk In Chicken Run was designed for. It gives you peace of mind that your pets are getting the best care possible. Omlet's experience and reputation for designing beautiful products that work are on show across several key features of the Walk In Chicken Run.
Stable door
If you opt for the Hi-Rise Walk In Chicken Run, you'll have the benefit of a stable style door. The top and bottom of the door open independently allowing you to feed your chickens without them nipping between your legs to get to your vegetable patch. Extra doors can be purchased and added to the run in various positions too. The Lo-Rise Walk In Chicken Run still has a large door which is easy to reach through and ideal for placing a feeder or drinker.
Extending your Walk In Chicken Run
The Walk in Chicken Run can be extended in numerous ways, whether you buy a large run straight away, or extend it over the years. Increase the width, length and height, using easy to add sections, and create a custom made run to suit your requirements. Please refer to the Walk In Chicken Run Configurator for options on how to extend your run.
Covers for your Walk In Chicken Run
Accessorise your Walk In Chicken Run with a Heavy Duty or Clear Cover in different sizes. These can be used independently or in multiples to create sheltered areas for your hens. Omlet Covers are extremely hard-wearing and they will provide brilliant protection against wind, rain and snow. The clear covers are ideal for winter and the heavy duty covers provide lots of shade in the summer.
Easy assembly
Assembling your Walk In Chicken Run is quicker and easier than ever. You can assemble a Lo-Rise in around an hour and a Hi-Rise version should take you no more than one and a half hours to assemble, using the simple instructions included. The only tool you will need is a pozi (cross type) srewdriver, for the Door Bolt.
Compatible with Omlet products
The Walk In Chicken Run has been designed to work with your existing chicken coop, so you can create a custom chicken keeping solution to suit your garden. Connection kits are available to attach the run to most types of Eglu, while other houses can be placed directly inside, giving your hens a place to rest, shelter and lay their eggs.
Walk in Chicken Run - 2 x 2 x 2
Our Eglu Cube with added 3ft run was just too cramped. It was nearly impossible for me to get in & out because of arthritis in my knees. We got the 6ft x 6ft Walk In Run and now I can change water and fill the feeder with ease. AND our small flock has much more space.
Review for:
Walk in Chicken Run - 2 x 2 x 2
This reviewer has 2-4 Hyliner Hybrid chick pets
I have never felt such peace of mind knowing my girls are in this run when I'm not there. It's large enough for them, secure and easy to set up and adapt. I'm not sure who loves it more, me or them… probably me, it's great
Review for:
Walk in Chicken Run - 2 x 2 x 2
This reviewer has 4-6 Polish, legbar, skyl pets
I have the chicken run for my runner ducks. We do not have and Omlet house because the door is not tall enough but the house we have fits in and we have a food and drink feeder. It's great to be able to walk in to the run for cleaning. On one occasion we made a cover from a tarpaulin and it blew over so we bought a small cover and it works well.
Review for:
Walk in Chicken Run - 2 x 2 x 2
We live on the side of our mountain in Wales. We have so much wildlife around at all times, so when we looked into rescuing chickens, we had to be certain we could supply them with safety. Our Omlet pen is the best way to make sure our girls are safe and protected, but most of all happy! Honestly, my oartner us like a kid in a sweet shop when he goes on the Omlet site???? You literally get what you pay when buying anything. The walk through pen is easy to assemble, sturdy and can be extended, which I have to do next! Excellent value for money, peace of mind, highly recommended and 'Just perfect x
Review for:
Walk in Chicken Run - 2 x 2 x 2
This reviewer has 8-10 Rescue hens pets
Fantastic new chicken castle!
Our chickens love their new enclosure as do we. It is a bit of a fiddle to erect with all the clips but once up it is sturdy and so nice to be able to unlock (easily) and either lean in the top section or walk in. No sooner was it up than we ordered an extension!
Review for:
Walk in Chicken Run - 2 x 2 x 2
This reviewer has 2-4 Chickens - Dark Spec pets
Read more reviews