The Buckfast Bee
The Buckfast Bee History
---
In the 1920's, the British bee populations were decimated by the Tracheal Mite (Also known as Isle of Wight disease). Brother Adam of the Buckfast Abbey in Devon was given the task of producing a new bee with resistance to the disease. The Buckfast bee (Apis Mellifera hybrid) was created after several years of research. Mating was carried out in a remote valley in Dartmoor to prevent cross contamination of other bees. It is crossed with several other species of bee to produce the Buckfast bee and is still bred at Buckfast Abbey today.
The Buckfast Bee Behaviour
---
Buckfast bees are imported all over the world and are renowned for the huge quantities of honey they produce. Not only are they gentle and calm around people, they have good disease resistance and are less likely to swarm when compared to other types. The down side is the lack of brood in the winter and they are more dependant on spring flowering for their stocks. However, they over winter well and are excellent house keepers, meaning the hive is usually spotlessly clean; hence fewer diseases.
Their calm nature means less smoke is needed for inspection and collection; they rarely sting. However, 2nd and 3rd generations can sometimes produce aggressive bees; possibly due to the African bee gene that was introduced. They have a keen sense of smell and will forage far and wide to find the best pollen. But are prone to robbing other hives.
The Buckfast Bee Status
---
Common
The Buckfast Bee Pictures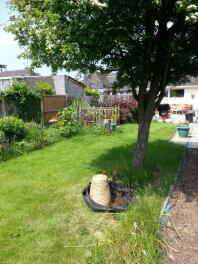 The Buckfast Bee For Sale
---
Please note: All animals listed here are for collection only. They cannot be delivered by the seller or by Omlet. The seller will send you their contact details to arrange payment and collection.
Latest Reviews For The Buckfast Bee
---
There are not yet any reviews for this breed. Click
here
to write one.