Maya® Donut Cat Bed - Plush Cushion With Customisable Feet
The ultra-soft premium faux fur Maya Donut Cat Bed offers first class comfort for cats who demand the very best!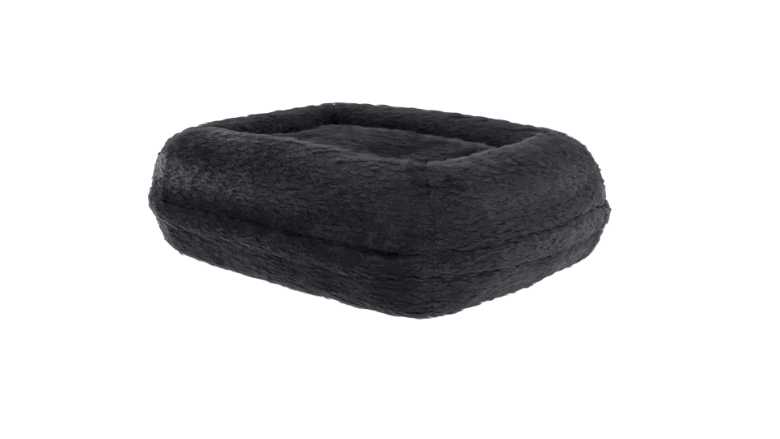 Configure Your Maya Donut Cat Bed
To Start, Choose Your Colour
| | | |
| --- | --- | --- |
| | Maya Donut Cat Bed - Earl Grey x 1 | £16.79 |
6 Reasons To Buy From Omlet
30 Day Money Back Guarantee

Free Returns

2 Year Warranty

Brilliant Customer Service

Secure Payment

Over 17,000
5 Star Reviews
5 Things You'll Love About the Maya Donut Cat Bed
The Maya Donut Cat Bed raises your cat's bed to new heights of style and comfort.
Super soft and luxurious feel for a restful cat nap.
Easy to clean with machine washable cover
Raise the bed with designer feet for style, comfort and hygiene.
Supportive shape with deep filling for a warm, cuddly feeling every time.
Choose from two stylish colours to suit your home.
Previous
Next
Click on the links below to read more
Got a question about the Maya Donut Cat Bed?
Take a look at our FAQs here.
---
Super Soft and Luxurious Feel for a Restful Cat Nap
Watch the video to see just how very soft the plush donut cat bed is.
The plush, faux fur finish of the Maya Donut Cat Bed gives it a premium luxurious feel that your cat will love. Our feline friends desire the very best, and with an unbelievably super soft bed like the Maya Donut, your cat will be purring all night.
"Mav is the cosiest cat ever, the bed is soooo soft, I'm jealous!"
---
Easy To Clean With Machine Washable Cover
The donut bed cover can be put in the washing machine so it stays looking fresh and clean.
The Maya Donut Cat Bed has a removable cover which you can put in the washing machine time and time again. No cat wants or deserves to sleep in a dirty or smelly bed, and we know you don't want that in your home either! A good bed is easy to clean and looks great in your home, and with the Maya cat cushion both you and your pet will have your wishes granted.
Unzip the cover to remove and wash at 30 degrees on a gentle cycle for a fresh, clean bed.
---
Raise the Bed With Designer Feet for Style, Comfort and Hygiene
Choose from six sophisticated styles of feet to elevate your cat's bed.
Just like furniture in your home, your cat's bed will benefit from the elevated aesthetic of sleek, sophisticated feet. Choose between:
Round Wood Feet - tapered, round shape in light wood
Square Wood Feet - modern, angled feet in light wood
Brass Cap Wood Feet - round, tapered feet in dark wood with a sophisticated brass cap
Metal Hairpin Feet - classic, hairpin steel design, available in cream, black or gold
All feet come with protectors for the bottom of the foot to prevent the bed from slipping around or damaging your hard floor. Use the configurator at the top of the page to choose your feet and create the ultimate bed both you and your cat will love!
Patent Pending. Design Registered.
---
Supportive Shape With Deep Filling for a Warm, Cuddly Feeling
The deep, squishy cushion of the Maya supports your cat's body for a super cosy feeling.
Unlike other donut cat beds, the Maya bed has a much deeper filling to provide better support and cushioning beneath your cat's body. Your cat will slowly sink into the plush bed while the bolster shape moulds around them for complete comfort and tranquility.
The Maya Donut Cat Bed is ideal for cats up to 5kg who like to curl up in a cosy nest for their cat naps. The deep cushion is long lasting and holds its shape, and will relax around your cat's body for superior comfort.
Did you know? Donut cat beds are popular for their calming effect on anxious cats.
---
Choose From Two Stylish Colours To Suit Your Home
The donut cat bed is available in two stylish colours to suit any home.
The Maya Donut Cat Bed has been designed to fit seamlessly into your home. The minimalist faux fur style will suit any interior design, completing the room with another sophisticated accessory while also bringing your pet into the heart of the home.
Choose between a deep charcoal Earl Grey, or a clean Snowball White to suit your home and cat.
We know how hard some cats are to please, so if your cat isn't 100% satisfied with their Maya Donut Bed just return it to us within 30 days for a full refund.
"I am so glad I have finally found a cat bed that is not only nice to look at but my cats love!"
---
Dimensions
The Maya Donut Cat Bed is suitable for cats and kittens up to 5kg.
The Maya Donut Cat Bed is available in one size to suit a wide range of cats and kittens breeds. We recommend this bed is suitable for cats up to 5kg. The cats in these photos weigh between 1 and 5 kg.
Dimensions: 47 x 36 x 15 cm
Attaching the feet will raise the bed by 4.5 - 5 cm.
Patent Pending. Design Registered.
---
Frequently Asked Questions
Got another question?
Please contact our friendly customer services team
here
or call us on 01295 500900.
Verified Reviews - Maya® Donut Cat Bed - Plush Cushion With Customisable Feet
---
Customer Images - Maya® Donut Cat Bed - Plush Cushion With Customisable Feet - 16 of 16
Related Products