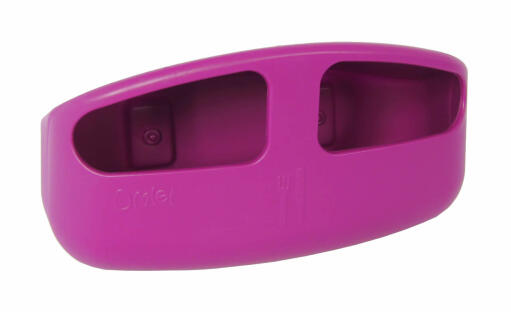 Checking stock in our warehouse...
£13.99
If you've expanded your flock, you can make sure there's plenty of delicious food for all your chickens with the new Eglu Cube Feeder. The carefully sculpted overhanging front makes it easy for your chickens to eat, while keeping their food dry and protected from the droppings of wild birds.
Made of hygienic, easy to clean plastic, the New Eglu Cube Feeder attaches to your run with strong steel clips.
Also fits the Walk-In Run and Runs for the Eglu Cube Mk1, Eglu Go, Eglu Go UP and Eglu Classic.
The capacity of the Cube feeder is 2.7 litres when placed on a vertical run panel such as the Eglu Cube or Walk in Run, and 1.8 litres when placed on an angled run panel such as the Eglu Go.
New Eglu Cube Feeder - Purple
Hooks easily on to the grid of the walk in cage. Our young bluebells have an awful habit of kicking over any container in the run, leading to a lot of spillage. This has solved the problem completely, plus the feed remains dry. They didn't take any time at all to get used to it. Another well designed Omlet product!
Review for:
New Eglu Cube Feeder - Purple
This reviewer has 2-4 Bluebells pets
Great for distinguishing the chicks feed from the adults
I love this color, but it really helps to differentiate the different feeds that I am currently feeding my flock. I have two adult Black Australorps and four 9-week-old chicks, so different feeds are necessary. This feeder is solid, keeps the feed dry (despite summer thunderstorms with high winds), and is perfect for accessing feed.
Review for:
New Eglu Cube Feeder - Purple
This reviewer has 4-6 Cream Legbars and Bu pets
Great product! But...the opening is very narrow. Not for roosters or hens with large combs
This is a great product and I don't regret purchasing it at all, however I cannot use it for my roosters because their larger combs prevent them from getting their heads into the small opening. The hens seem ok with it, but for the roosters, I had to go a different direction. I understand that most folks only have hens, but for the few who do keep a rooster or two around, this product isn't great for them. I love the protection from the weather, but a larger opening would make this product perfection. :)
Review for:
New Eglu Cube Feeder - Purple
This reviewer has 8-10 Black Copper Marans pets
This came as standard with my Eglu Cube and I must admit that I really didn't use it to start with. But I've been using it full-time since investing in a walk-in run for "flockdown", and even my runner duck (who thinks she's a chicken - don't ask!) uses it. Reduces waste hugely (I used to scatter their food) and keeps their layers pellets dry even when the rain is torrential. Cleans pretty easily with a dish brush. I'd definitely recommend these.
Review for:
New Eglu Cube Feeder - Purple
This reviewer has 4-6 Rescue hens and 1 ru pets
Excellent design cube feeder
Best feeder I have bought . No wasted wet food , would recommend.Not sure how easy it will be to clean , but I'm happy and so are my hens .
Review for:
New Eglu Cube Feeder - Purple
This reviewer has 2-4 pets
Read more reviews