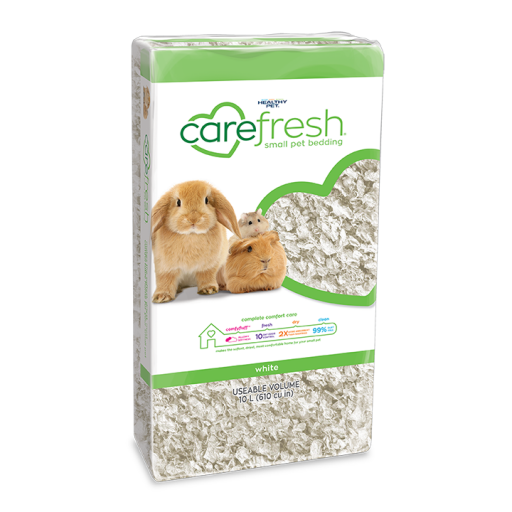 Checking stock in our warehouse...
£7.99
Carefresh Bedding is one of the most popular choices of bedding for small animals such as rabbits, guinea pigs, hamsters and mice. It has been specifically designed to eliminate pet odours, it lasts 2-3 times as long as traditional bedding and it is highly absorbent, absorbing over 3 times its weight in liquid. Dust free and hypo-allergenic, Carefresh will keep your pets and their homes fresh and clean. Simply apply 1-3 inches to the bottom of the cage and empty weekly, or as needed. Carefresh Bedding is also suitable for birds and reptiles. Made from wood pulp, a natural and sustainable resource; 100% biodegradable and compostable. Pack contains 14 litres, compressed into 6 litres. Also available in other colours. Carefresh Bedding Benefits:
Best odour control
All-natural, no unhealthy chemicals
Lasts twice as long as wood shavings
Safe for pets and families
Absorbs 3x its weight in moisture
No aromatic oils
Dust free
Earth friendly
Carefresh Animal Bedding 10L - White
We use this bedding for our Syrian hamster.
Review for:
Carefresh Animal Bedding 10L - White
This reviewer has 1 Syrian pets
Carefresh animal bedding1ol white
Excellent very pleased with it
Review for:
Carefresh Animal Bedding 10L - White
Good re odour but I thought it'd be softer?
Had to buy a big packet to try it. I prefer it over wood shavings but I think "Clean and Cozy" is softer, though not as readily available in the UK.
Review for:
Carefresh Animal Bedding 10L - White
Excellent for my guinea pigs. Does what it says on the packet. Very pleased with this product :)
Review for:
Carefresh Animal Bedding 10L - White
Fantastic cage Fantastic bedding
Review for:
Carefresh Animal Bedding 10L - White
Read more reviews