Plan your whole year with your family so that you can spend as much time with your pet chickens. You never know, perhaps they'll surprise you by not hopping over the fence if you reward them enough.
National Chicken and Egg Day - February 2nd
A day for thought and thanks to both the humble egg and the brilliant chicken. It's traditional to spend a few extra moments with your chickens and reflect on the good times you've shared together. Perhaps you could organise a celebratory egg and spoon race, the official distance is one back garden and the customary prize is a lemon meringue pie (see the recipe section for the recipe).
Pancake Day - Shrove Tuesday
Originating from a time long ago when women went regularly to church to confess their sins, the original and best Pancake Day Race is at Olney in Buckinghamshire. Incredibly the statistics show that to increase your chances of winning you should make the pancake using eggs produced from your own chickens as they produce a pancake with a more accurate flip.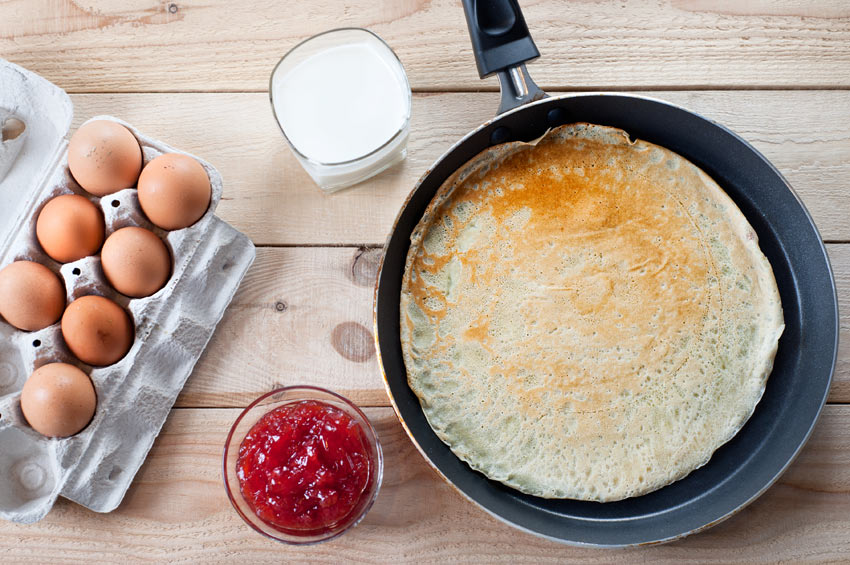 A delicious cooked pancake made with fresh free range eggs
Financial Year End April 1st
The deadline for your chickens to produce a detailed set of accounts for the previous year's production. Your incomings should be greater than your outgoings, if not cut back on expenses such as feeding morello cherries from Marks and Spencers until production targets are met.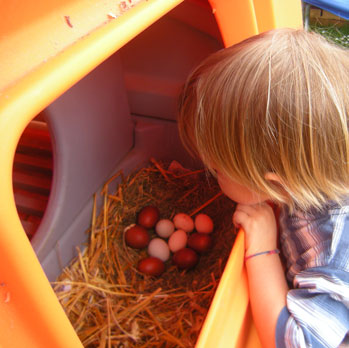 A clutch of freshly laid free range chicken eggs in the Eglu Cube
Valentine's Day February 14th
According to the legend, Saint Valentine wooed a princess by his brave and courageous acts on the battlefield but actually it was his ability to conjure up divine patisseries, tartes and delicacies in the kitchen, the finest of which were always served with a real egg custard that did the trick.
Your Chicken's Arrival Day
When did you get your first chicken? It is a date everyone can remember. So why not make a special occasion and have a proper Hen Party. Instructions are as follows: bake a cake, put the right number of candles on top, invite all your friends over and dance the night away.
Take Your Chicken To Work Day November 23rd
Tom Cruise famously took a chicken onto the set of Top Gun (1986) to help him learn some of the moves that his badly cast co-pilot Goose couldn't teach him. So make your chicken feel special and take her into work, we all do. (Please only do this if it doesn't cause your chicken distress.)
Your First Egg Day
It is always important to remember when you first became a farmer, tending your hens and collecting the precious eggs.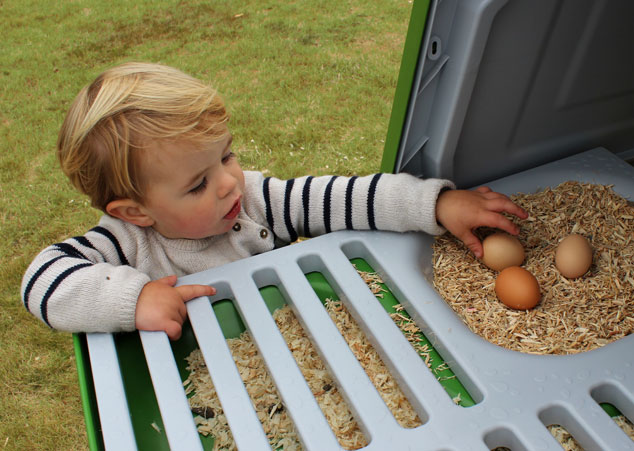 The first three eggs in your Eglu Chicken Coop is the most rewarding day of all
Christmas Day
Every day is like Christmas when you have chickens, but it seems that chickens haven't yet managed to wrap their presents. To celebrate this special day give the chickens a mince pie and bring them in to watch the Queen's speech. Finally, why not try the egg nog recipe on this website.