The garden begins to stir from its winter slumber, which is when your chickens will thrive on the longer daylight hours producing more eggs and enticing you back into the garden. It is a good time to dig in all that lovely compost that your chicken droppings have produced, and sow your vegetable garden to ensure a bountiful supply of salads, root vegetables and fruit. Chicken manure is especially good for things like currant bushes, which are delicious when made into a sauce for pouring over ice cream.
Longer Days = More Eggs
Longer days means that your chickens are going to get more light in the early mornings and in the late evenings. This does mean that you will be rewarded with more eggs, but it also mean that you must get up extra earlier to let your chickens out. If it comes to 10pm and your chickens are still scratching away without a care in the world just keep returning until they've safely tucked themselves away. Don't forget to lock them up because Mr Fox might just have his eyes on them.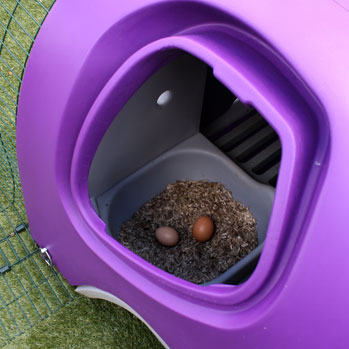 Two freshly laid eggs in the nesting box of a purple Eglu Classic
Keep An Eye Out For Mites And Lice
Unfortunately, the warmer weather can be the time when you start to see more mites and lice. Around this time of year be sure to check your hens regularly. To find out how to treat mites and lice follow this link.