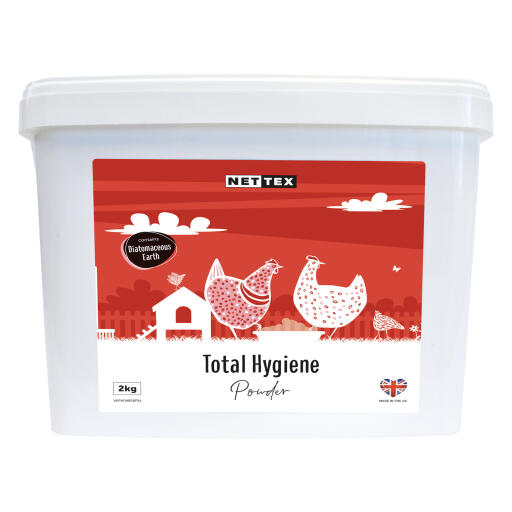 Checking stock in our warehouse...
£32.00
Total Mite Hygiene Powder is a natural, non toxic mite contol powder that can be applied directly onto all birds and poultry. Made from fossilised diatoms, it breaks down the waxy coating of pests, causing them to dehydrate and die. Total Mite Hygiene Powder should be applied directly to poultry or sprinkled in the housing. Around 30g should be used per square metre, or if applying directly to chickens use around 3g per bird. There is no need to re-apply daily and this product will last up to 6 weeks. Please read the dosage advice on the packaging. This can also be used on all types of pets, horses and farm livestock and in the home and garden to control insects such as ants, silverfish and termites. It can also be used to control fleas, lice and ticks. Ingredients: Diatomaceous earth.
Nettex Total Hygiene Powder - 2KG
I use this powder for my chickens and ducks, I would recommend it to anyone thinking about buying it
Review for:
Nettex Total Hygiene Powder - 2KG
Excellent product, will use purchase again
Review for:
Nettex Total Hygiene Powder - 2KG
Nettex Total Hygiene Powder
Great stuff, it covers all I need to do for our Chickens without having to purchase other products separately such as Diatomacious Earth. Will continue to use this product.
Review for:
Nettex Total Hygiene Powder - 2KG
Seems good - hope it works
My chucks were infested with red mite last year. I killed them with a very expensive powder and bleached the wooden hen-house to make sure. I am now using the powder as defence and so far have not been reinfected. I cannot say yet whether it works, but I do not know that it doesn't. I hope I will not be commenting that it does not work!
Review for:
Nettex Total Hygiene Powder - 2KG
Read more reviews