Having other pets shouldn't cause too much of an issue when keeping chickens. Unless you have a pet fox, wolf, tiger, lion….the list could go on but we will stop there, you should be fine. If you have cats or dogs this shouldn't stop you from getting chickens.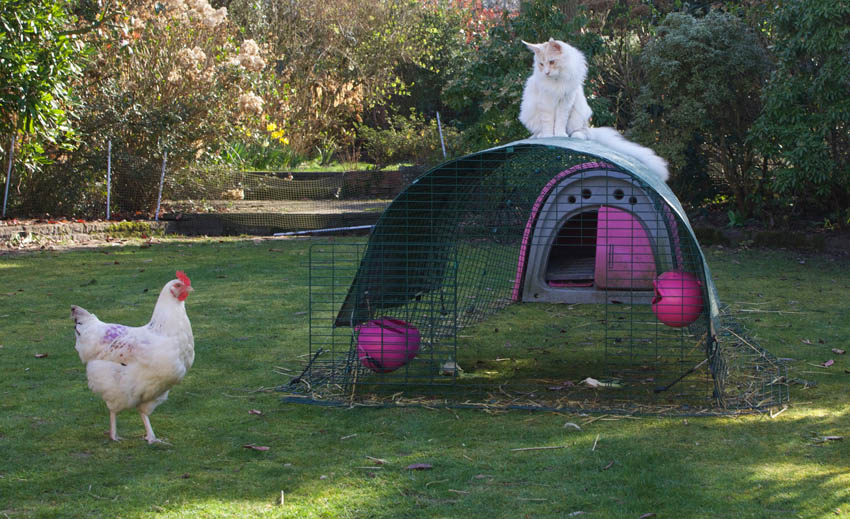 Rachael Harris' cat sat on top of her Chicken Run guarding her hens
Chickens are surprisingly feisty when they need to be. A group of chickens can defend themselves against dogs and cats. However it isn't recommended to leave your chickens unsupervised with your cat or dog. There are advantages to having cats and dogs when you own chickens. Cats will keep rodent numbers down and dog's urine can deter some foxes.
Dogs
Dogs and chickens living together can be done, and shouldn't pose any issues for you. Whether or not it's safe to keep chickens around your dog will depend on the breed of dog you have. Some breeds will have a higher prey drive, meaning they like to chase things. This could cause a problem at first when you introduce your dog to the chickens. You should know your dog well, and know whether or not it is likely to chase your chickens when you first introduce them. If you think it is likely to chase then the introduction will be safest done on a lead. If your dog goes for your chickens a firm 'no' should let your dog know that the chickens are not to be chased. Hopefully your chickens will stand up to your dog and give it a peck on the nose. This is usually enough to deter your dog from bothering them.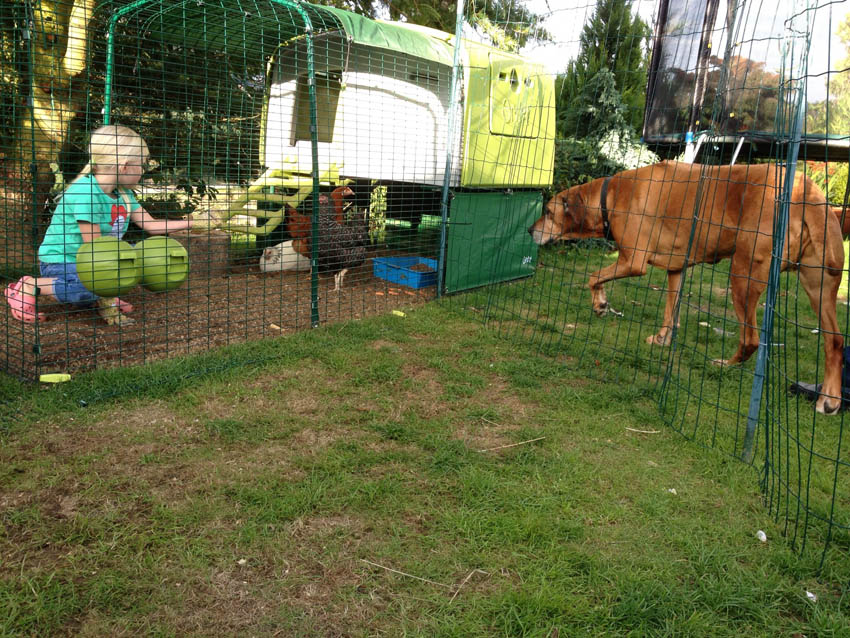 Lucy Milne's beautiful big dog saying hello to her happy hens in their Eglu Cube
Cats
Keeping cats and hens shouldn't be a problem. Cats are smaller than dogs and chickens are pretty good at defending themselves from them. It is more likely that your cat will be running away from your chickens than the other way round. However if you have a very determined cat then you will have to explore fencing options that will keep your cats out of your chickens run.
Claire Scott's cat Lucy gets on really well with her Pekin Bantam hens
Read our section on introducing your chickens to your other pets here.
Chickens and Ducks
Chickens and ducks will mix happily, with one important detail - the ducks must be female!
Drakes - male ducks - usually develop a violent streak once mature. They will chase anything that has feathers, and many other things besides. Their attempts to mate with your hens will cause the birds distress. The drake grips his mate with his beak, so a hen's comb can be damaged in the tussle, and she will probably come away from the encounter minus a few neck feathers too.
Female ducks, however, will keep to their own flock and avoid too much contact with the chickens. They will come running if you're feeding scraps to your hens, but will compete with less violence than the hens themselves when squabbling for the treats!