If you'd like to crate-train your dog, then we have some great crate choices available on our website. We have a car-friendly option, the Fido Classic, that you can use on-the-go, as well as a stylish option that our customers think looks great in their home - the Fido Studio. The Fido Studio is specially-designed to provide a neat crate and storage solution that blends in with your other furniture. Before you jump right into crate training, you must first find out where the best place to put your crate is. Read on for more information.
The Fido Studio is a great choice for providing your dog with their own space
The Best Place To Put Your Dog Crate
Place your new dog crate in the area of the house that you have chosen for your puppy's resting area. Make sure you choose a spot where he or she can still feel a part of the family, rather than feeling as if they're in the doggy slammer. Bearing this in mind, it's also important to avoid putting the crate in a place that gets a lot of foot traffic. The kitchen is usually the best choice for most people because it's where people tend to gather in the house.
Avoid placing the crate in an isolated area of your house, as the worst thing you can do is make your new puppy feel alienated or separated from their new family!
Introducing Your Dog To A Dog Crate
The first step is to choose the right crate for your dog, and for the situation. Do you need a crate within the house, or do you need a portable option? We sell both here at Omlet, in our Dog Shop. If you would like to read more about choosing a dog crate that is the right size for your pet, we've created a page to help you.
Your dog crate should be both a place of rest and of reward. It's a good idea to show your dog that the crate is a nice place - you can create a positive attitude towards the crate by putting nice things in there, such as treats or their favourite chew toy. Doing this will make them associate their crate with positive events, and so should make them consider it as a good space. This will also encourage them to use the crate on their own, without you having to ask.
Some dogs feel more comfortable with a blanket draped over their crate to create a doggy cave. This is because it makes the crate feel more like your dog's den. If this doesn't help, remove the blanket and take a slower approach to the way you introduce the crate. For some dogs it may take some time, but they will thank you later.
What Is A Dog Crate For?
It's very common for people to assume that crate training is cruel and that dogs don't like small spaces, but it is proven that dogs love a calm, safe and rewarding place in which they can rest and call their own. A dog crate offers a place to train as well as a place to sleep at night. It offers security from loud noises like fireworks and thunder, and a place to snooze after a long and tiring walk.
What A Dog Crate Should Not Be Used For
If crate training is not done correctly, your dog can feel trapped and can get frustrated very quickly. This is when destructive behaviour can develop, which can cause your dog harm. A dog crate must never be used as a place of punishment, it should only be used as a place to rest and reward, and at first you must never make your dog go into their crate if they don't want to.
Furthermore, a dog crate must never be used to hold your dog whilst you are at work all day. An ideal alternative solution is coming home during your lunch break to give your puppy an hour of entertainment and exercise. If this isn't possible, allow your dog to relax with some interactive toys and ask a family member, friend or dog walker to let them out for an hour. To help prevent boredom and destructive behaviour it is always best to exercise your dog before you go to work. You should never leave your dog shut up in their crate when they are full of energy. Always tire them out and then leave them to rest for a maximum of 3-4 hours.
Puppies under the age of six months shouldn't be left in a dog crate for more than three hours at a time. At this age they can be a lot like a toddler and may need to pee at a moments notice. Taking them outside to relieve themselves often will help prevent any accidents; especially after they have been fed or had a drink. Typically, puppies need to go to the toilet between 10 - 30 minutes after they have finished eating. Puppies also need lots of socialising to help them feel comfortable, especially over the first few weeks after they have arrived in their new home. Leaving their mother can be quite distressing, so it is best if you can stay at home all day.
Dog Crates For The Car
It is really reassuring to have your dog safely inside their crate when you have them in the car. When taking your dog on an adventure there's a lot of room for disaster if they are unsecure in the boot or footwell. Dog crates are a good solution - they provide a comfortable, calm and secure environment in the car so you needn't worry.
It is best to use a dog crate for your car after you have crate trained your dog at home. This way, they aren't distressed or confused when they are first put in the crate.
Important
It can be a good idea to remove your dog's collar before you invite them into the car crate - there is a small chance that it could get caught, which may cause them to choke.
Take a tour of the Fido Studio - not just a crate, but also a contemporary piece of furniture.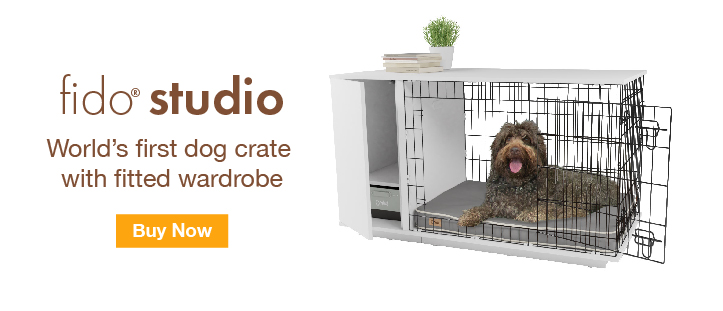 Related Products
Customer Images
Hilary, 12 April 2020
I can only see one size of 'fido studio 24 with wardrobe' advertised - is this suitable for a Labrador?
---
Hilary, 12 April 2020
I can only see one size of 'fido studio 24 with wardrobe' advertised - is this suitable for a Labrador?