One of the wonderful things about cats is the vast range of coat colours and patterns that makes each cat unique. When choosing what type of cat you want, it is exciting to learn about all the different types of coats and colours they come in. Believe or not, some cats even look like they have moustaches. Genetic mutations can cause the most wonderful coloured coats, and selective breeding has also produced some beautiful patterns.
Here are the main colours that cats come in.
White
Black
Red (Ginger)
Blue / Grey
Cream
Brown
Cinnamon
Fawn
Below is a list of the many colour coat patterns.
Solid / Self-colour
This is the easiest coat type to spot, because they are all one colour. If a cat has any other splodge of colour on her then she is not considered a solid coat type.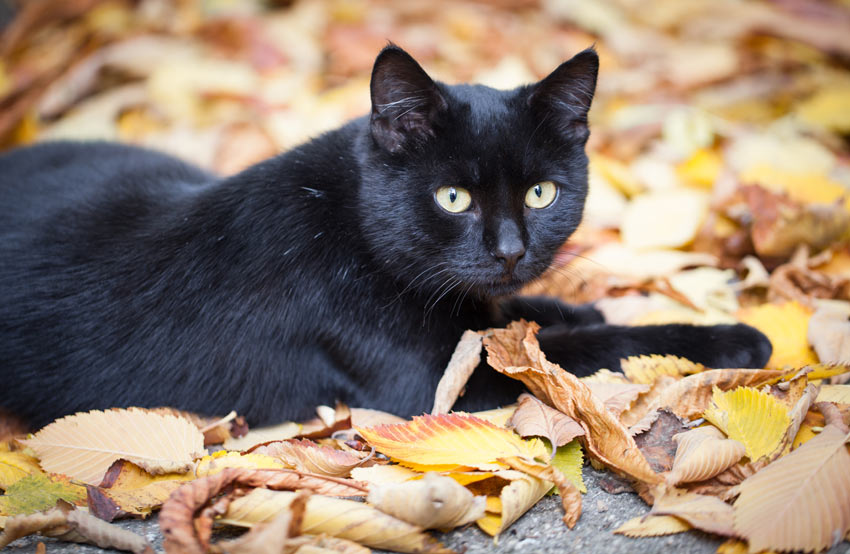 A solid black cat
Bi-colour
Bi-colour is when a cat has a white coat with patches of another colour, for example black or tabby. As you would expect there are many different variations. This coat type is caused by the white spotting gene. You will sometimes hear bi-colour cats being referred to as having magpie (random spotting), harlequin (random spotting with coloured tail), cap and saddle (coloured head, with a coloured saddle on their back), or van (colour splashes in-between ears, and coloured tail).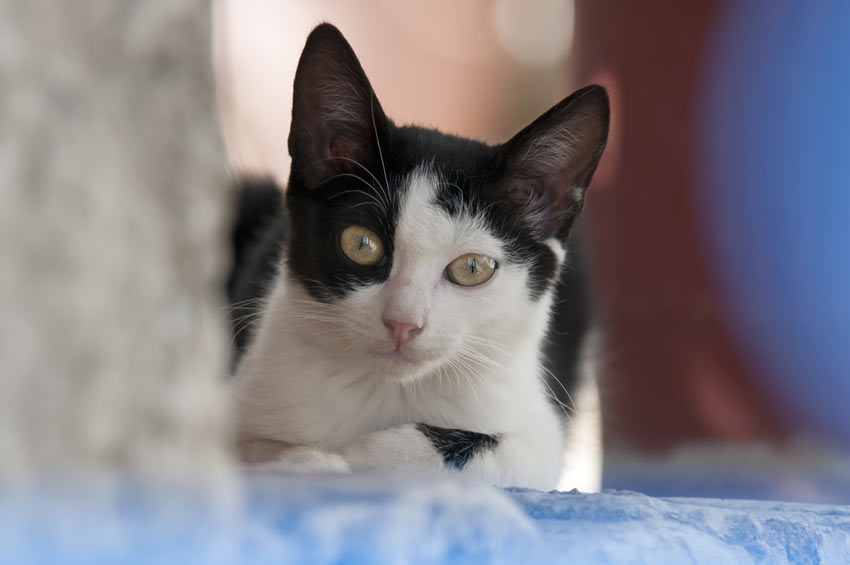 A beautiful black and white bicolour cat
Tabby
This is the most common coat type in cats around the world. There are 4 variations of a tabby. A striped tabby (also known as a mackerel tabby); this is when a cat has vertical stripes running from its spine to its belly. A classic tabby (also known as a blotched tabby); this is when there is a swirly pattern, creating a marbled effect. Spotted tabby; as the name suggests this tabby variation has spots. Ticked tabby; Ticked tabby's usually have striped legs and tail (but not always), with the rest of the body appearing mottled from the agouti hair. Agouti hair is when each individual hair is more than one colour.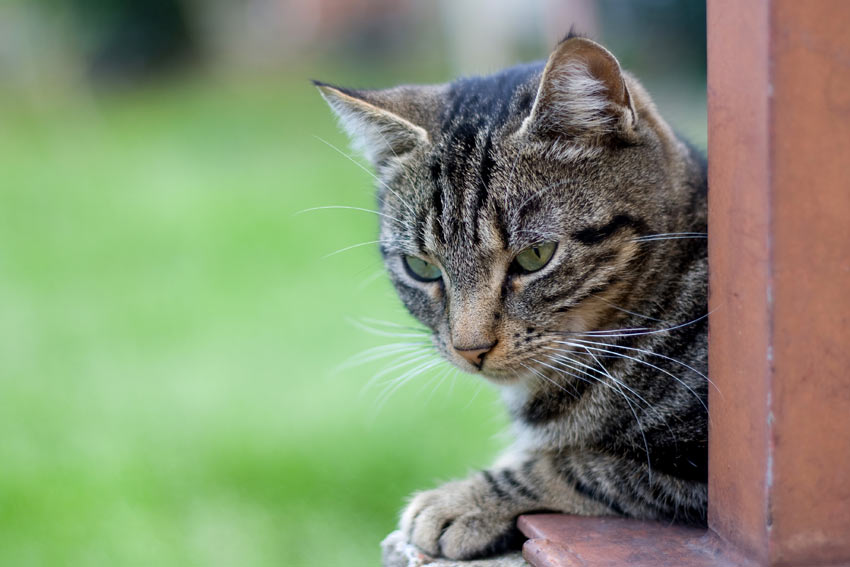 A tabby cat with an incredible coat
Tortoiseshell
Tortoiseshells are a mixture of red (ginger) and black. They can come in various dilutions, with the most diluted torties being blue and cream. The coat pattern is mainly seen females. Torties can also vary from brindled, where the two colours are well mixed, to having distinct patches. You can get a mixture of a tabby and a tortoiseshell, also known as a 'torbie'. These have the distinct markings of both coat patterns.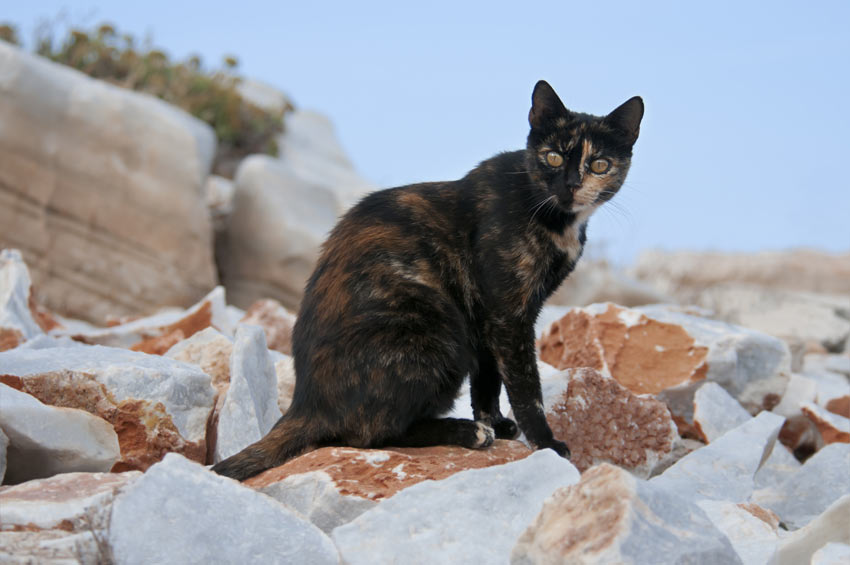 A cat with a Tortoiseshell coat
Tri Color / Calico
This coat pattern consists of red (ginger), black and white colouration. Just like the tortoiseshell, a calico can be diluted, showing grey, cream and white patches.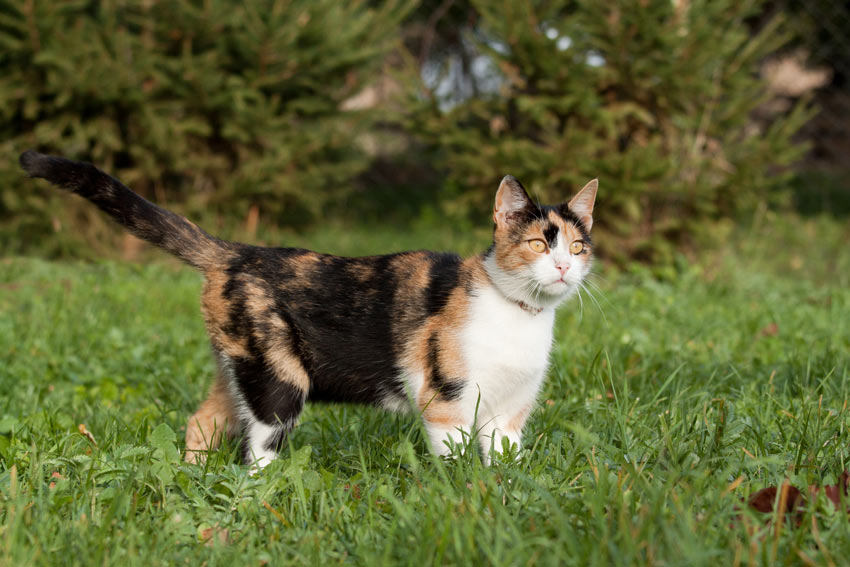 A beautiful Calico cat walking on the grass
Colour Point
This coat pattern is when the coat is darker on the face, paws, and tail. This is thought to be caused by a gene that causes the coolest part of the cat's body to become darker in colour.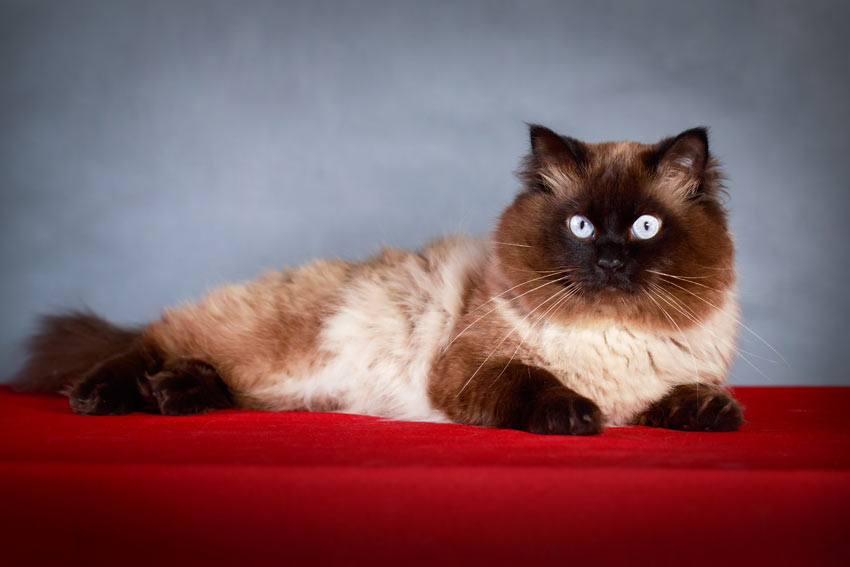 A colourpoint cat with a beautifully patterned coat
A colour point cat is born without the distinct darker markings but develops them as they grow. A scientific experiment has shown that if you keep colourpoint kittens in a warm room the darker markings won't develop.