Rabbits have quite sensitive digestive systems, so it's wise to stick to a few select foods when judging what to feed them. Although this list is not comprehensive, it should give you a good, general idea - it could also be a useful page to print out and keep somewhere in your kitchen.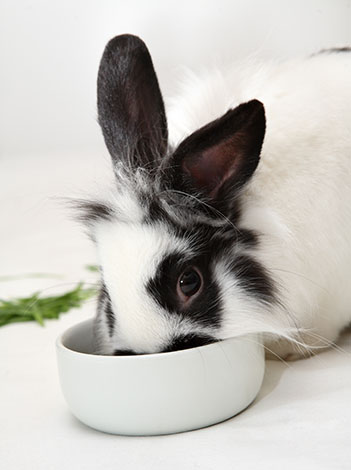 Rabbits can eat a number of different foods, but be sure to introduce anything that is new very slowly
Basics
Unlimited Water
Rabbit Salt Lick
Grass (be careful of the weeds and plants that come along with this, and do not feed them clippings, as this can cause stomach problems)
Unlimited Hay
Dry Food


Fruits and Vegetables
Apple (only once or twice a week)
Artichoke
Beetroot
Brussel Sprouts
Carrot (only once or twice a week)
Cauliflower
Celery
Chicory
Kale
Peas
Pea pods
Spinach
Sunflower seeds
Wild Greens (note - if you are going to give your rabbits wild greens, they can't have been sprayed by any pesticides, weedkillers, or fertilisers as these can be harmful)
Bindweed
Cow parsnip
Clover
Dandelion (only occasionally, as it is a laxative)
Knapweed
Plantain
There is a very long list of wild greens that rabbits should avoid, so if you're unsure of your plant identification skills, it's best to leave it out.