Indian Runners
Breed Rating (8 Reviews)
| | |
| --- | --- |
| Appearance | |
| Friendliness | |
| Hardiness | |
| Egg | |
| Garden | |
History
The Runner duck is one of the most easily recognisable ducks and has always been popular due to their charm, striking appearance and high egg production. It is the furthest shape from the traditional Mallard breed. The Runner arrived in the UK from Asia in the 1850s but it has been around for a lot longer. It featured in the hieroglyphics of ancient Javan temples and is one of the descendants of the traditional herding ducks of Indo-Chinese Peninsula. The Runner has been used to create new breeds such as the Khaki Campbell. Indian Runners have been voted Omlet\'s favourite duck.
Behaviour
These ducks are perhaps the closest thing you can get to a Penguin or a walking wine bottle. You can spend many happy hours watching these slender creatures patter around your garden. They generally need less water than other varieties and can get by with just a tub of water in which to dunk their heads. These birds have a good nature, but can be rather jumpy at times. They are average in terms of noise level.
Varieties
The standard varieties include White, Black, Buff, Chocolate and Gray although there are a wide range of other non-standard colours available.
Tweet
Your Pictures
Indian Runners For Sale
Please note: All chickens listed here are for collection only. They cannot be delivered by the seller or by Omlet. The seller will send you their contact details to arrange payment and collection.
---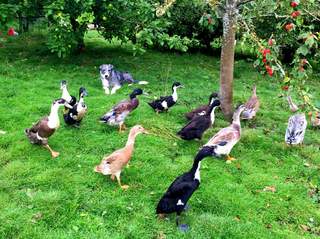 6 x Fertilised Runner Duck Hatching Eggs Ready for Shipping
Description: The Drakes we have are: Silver Runner -- Solomon Mallard -- Baby Duck (Ironic Due to the size of him) Chocolate & White -- Chocolate rain White - Walter The Mix of ducks we have are: White -- Jemima Puddle Duck Silver - Starla Mallard - Sandie Mallard - Stroppy Trout - Digger Black & White - Oreo Please Follow Us On Facebook Old Chapel Home Produce we have seen a fantastic lay rate and hatch rate Our chickens and ducks have 10 acres that they have all day to roam and pick for grubs Our braver chickens & ducks even come in to our house looking for scraps of food The eggs have had a 90%+ hatch rate to date I would certainly recommend a Brinsea incubator I will send 6 fertilised Duck eggs very well packaged They will be fresh and with the proper procedure followed will hatch into amazingly beautiful runner ducklings in approx 28 days
---
Unsexed Indian Runner Ducklings
Description: We have some lovely Indian Runner Ducklings for sale (unsexed). They start from £9.00 each. Various colours. We are based in Leatherhead, Surrey.
---
Latest Reviews For Indian Runners (5 of 9)
---
Breeder Clubs for Indian Runners
Indian Runner Club
Telephone: 01749 812758
---