Most budgies like to bathe. In the wild a bath clears dust from their feathers and helps them cool off; and although pet birds don't actually have these daily requirements, they still enjoy a good splash around. If you don't provide a bird bath in the cage, your pet will often do his best to wash in the drinking water, making it dirty and possibly contaminated with budgie droppings. You can take this as a clear message from your budgie to install a proper bath.
There are all shapes and sizes of budgie bath available in shops and online. Some have splash-proof sides; some clip handily into the cage door or the space where the food or water tray sits; some resemble walk-in showers; and others are just non-tipping shallow trays that could easily be substituted with a small ramekin dish or wide-bottomed bowl. Installing and removing the bath needs to be trouble-free, so choose a model that suits your cage set up.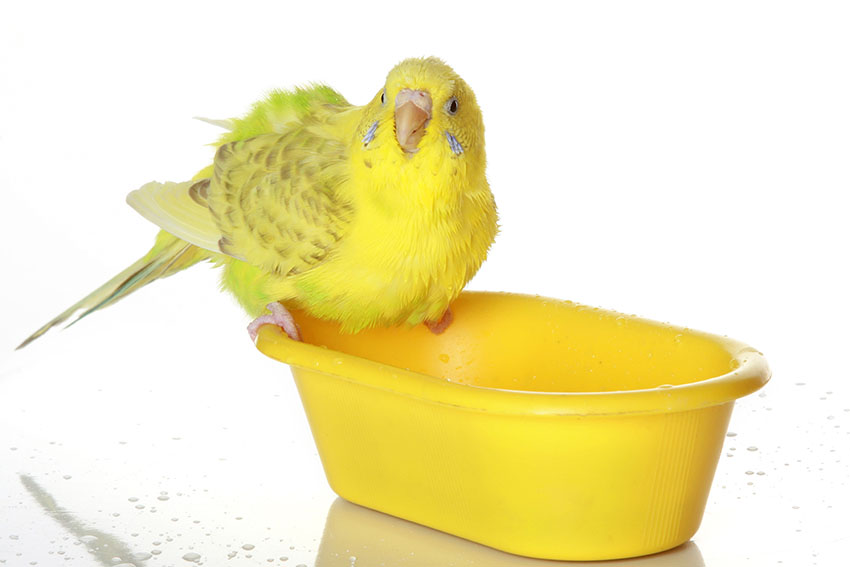 Yellow budgie, yellow bath
Baths can also be external to the cage: a bowl of water placed on the floor will often act as a budgie magnet. There will be a good deal of splashing involved, though, and some owners restrict these out-of-cage bathing sessions to bathrooms or kitchens, where the water can be easily mopped up. Always choose a bowl that will sit securely on the floor: if it tips or rocks, the bird will panic.