Hamsters can eat a wide variety of foods, from fruits and vegetables to seeds and rusks. This list aims to give you some ideas that can spice up your hamster's diet, as well as providing a safe food list.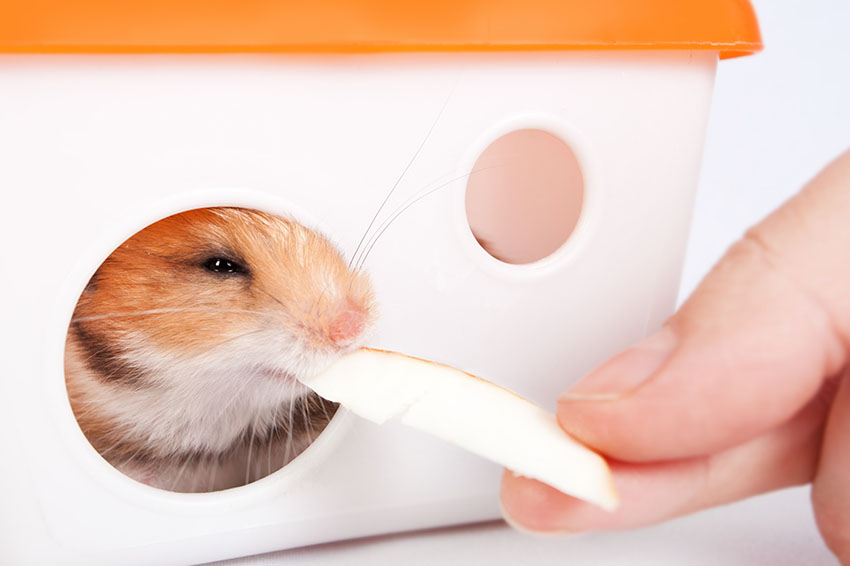 Hamsters love lots of different foods
In general, if you're not sure whether or not your hamster should eat this specific food, then we don't advise that you risk it. Hamsters have very different digestive systems to our own, and there are many foods that we can eat happily that hamsters cannot.
Apple slices (without seeds)
Banana
Broccoli
Carrot
A Cherry (pitted)
Chicory
Clover
Dandelion
Egg (small piece of boiled and scrambled)
Hamster dry foods
Hamster treats
Hay
Lettuce (very small amounts only)
Pear
Peas
Sprouts
Sweetcorn
Watercress
Some foods to avoid (non-exhaustive):
Aubergine
Acorns
Buttercups
Bluebells
Bindweed
Citrus fruits
Elder
Garlic
Leeks
Privet
Rhubarb
Onions
Un-ripe fresh food
Over-ripe fresh food
'Human Food' (as covered in our 'Can My Hamster Eat'... pages)
It's best to try tiny slivers of safe foods with your pet in case they develop diarrhoea. When you're sure a food is fine, offer your pets a pea or bean sized amount.