A healthy, attentive hen budgie will do everything necessary to ensure a healthy chick. A proper incubator should work the magic, too. But things don't always go to plan, and deformed or dead chicks are not uncommon.
Budgie Chick Died
There are a number of reasons why this might happen. In order to avoid it, bear in mind these potential hazards:
Egg rotation. A hen (or an incubator) regularly turns the eggs, enabling the chick to develop properly. If the egg is not rotated at least five times a day, the unhatched bird's intestines may stick to the side of the eggshell. An unfortunate chicks afflicted in this way will hatch with its guts outside its body, an ordeal which, needless to say, it will not survive.
Temperature. If this is too high or too low, the chick will not hatch. Heat will also kill a young bird, while cold will make the hen sit so tightly that the poor chick might be deformed or killed.
Humidity. If the environment is too dry, the eggs may not hatch. If the humidity is too low a hen may leave the nest to wet her feathers before resettling on the eggs, providing the needed moisture. A budgie bath or shallow dish of water in the cage is therefore essential. A good egg incubator will have humidity control.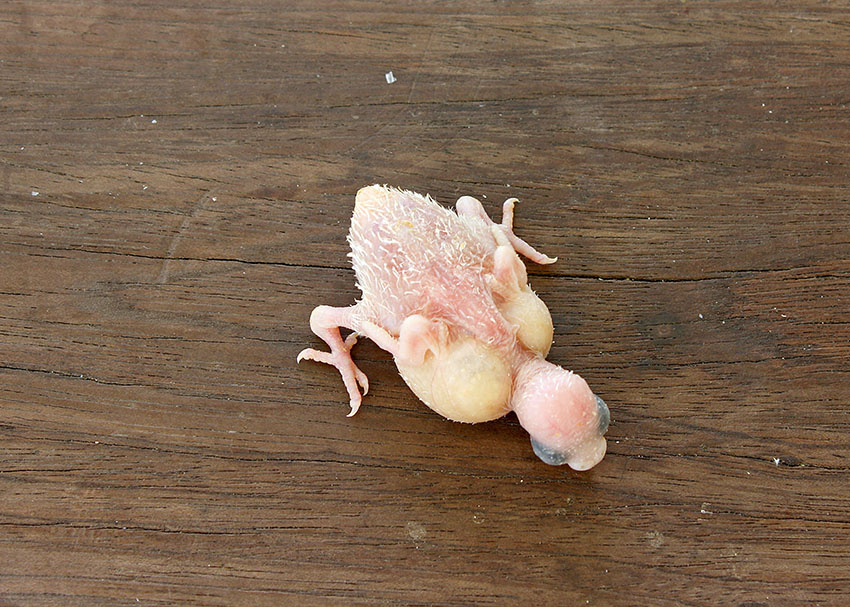 A six-day-old budgie chick
Patchy incubation. If the hen is disturbed, and therefore on and off the nest too much, the chick's development may be interrupted, and it will be born deformed.
Shaking. An egg that is dropped from the nest in the early stages of incubation, or otherwise shaken about, will not produce a chick. In the later stages, this kind of violent disturbance can result in deformities.
Pollution. Toxins in the air, water or food – from sprays, kitchen pans, pesticides, etc – are likely to kill or deform chicks. They won't do your other birds much good, either.
Malnutrition. The food supplied by the parents must be top-notch. A chick that dies in spite of a good diet may have suffered from intestinal parasites or some other problem - see the Budgie Health Problems section, above.