This depends on what food you choose to give them, but for two guinea pigs, expect to pay in the region of two or three pounds a week to keep a bowl of dry food full (slightly more if you choose to buy an enriched variety), and a few more pounds for their fresh food requirements. In order to give them the best nutrition, this fresh food will need to be quite varied - broccoli and carrots are often great favourites, and a healthy helping of lush green grass or carrot tops is always welcome. As a guinea pig owner you'll need to buy both dry and fresh food.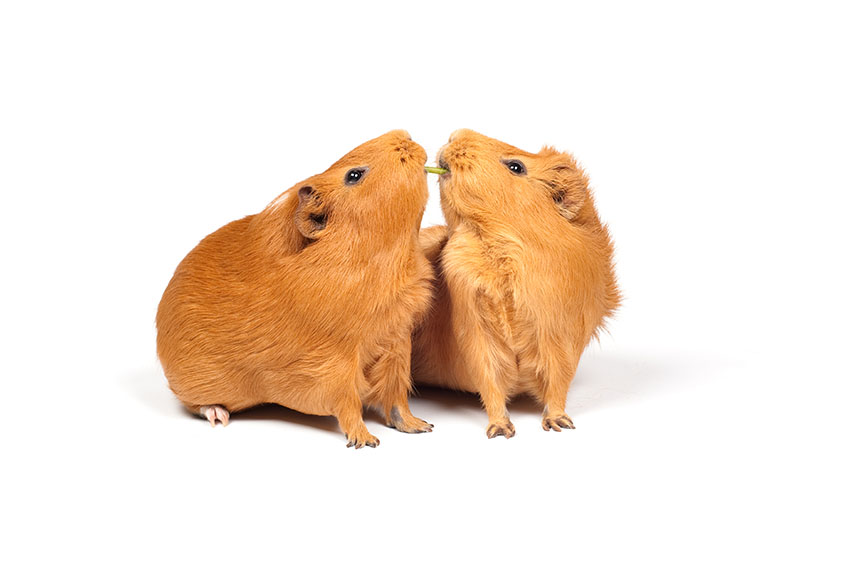 Guinea pigs love hay, and it's crucial for their health
Guinea pigs will also need to eat hay, as it's needed to keep their digestive systems healthy. You can purchase hay from most good pet stores where it'll be in the range of about three or four pounds per bag. How much hay you'll need is determined by how many guinea pigs you have, but also by the time of year. All year round, guinea pigs will use hay as both a bedding and as a food, but in the summer months guinea pigs will primarily use hay for munching on, whereas during the cooler months they'll need more, both to eat and to use more heavily as a bedding and insulation material. This is especially true if they're kept outside. Depending on your climate, you may need to bring your pets indoors, but if it's just a little cool then providing them with several handfuls of hay in their bedding area will help them to keep toasty warm.