Guinea pigs soon get used to a routine, and will reward you with welcoming squeaks as soon as they hear you open your back door. It is important to check on your guinea pigs at least twice a day, in the morning and evening. However guinea pigs love human company and the more time you can spend with them the happier they are. For more information on daily requirements, have a look at our care section.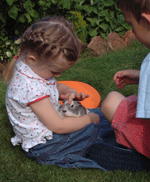 Guinea pigs need some attention and care each day
Feeding
Guinea pigs are never happier then when they are eating, and feed time will be rewarded with the loudest squeaks of all. In the morning they should be given a bowl of dry mix, and a variety of fresh food. During the day if they are in their Eglu they will graze grass, and then in the evening they can be given some fresh hay for overnight.
Fresh water
Water is extremely important, and the bottle should be refilled daily. If the weather is cold, be aware that their water could freeze, and may need to be thawed and refilled more frequently.
Keep their home clean and tidy
Housekeeping is very important, and their bedding should be changed regularly. Unlike rabbits, guinea pigs cannot be trained to use a litter tray, they will toilet anywhere, but the Eglu is quick and easy to clean.