What's in a name? Quite a lot when it comes to budgies. The bird's scientific tag is Melopsittacus undulates, the first bit meaning 'melodious parrot', and the second referring to the undulating flight of a budgie flock. They're known more formally as budgerigars, and in the USA they are often called common pet parakeet, parakeet budgerigar, plain 'parakeet', or the shortened form 'keet'. This can be confusing in the UK, where the word 'parakeet' applies to various species of small to medium-sized parrot, but not budgies. In Australia, birds bred from wild stock, rather than from existing pet birds, are called shell parakeets, to differentiate them from their captive-bred cousins.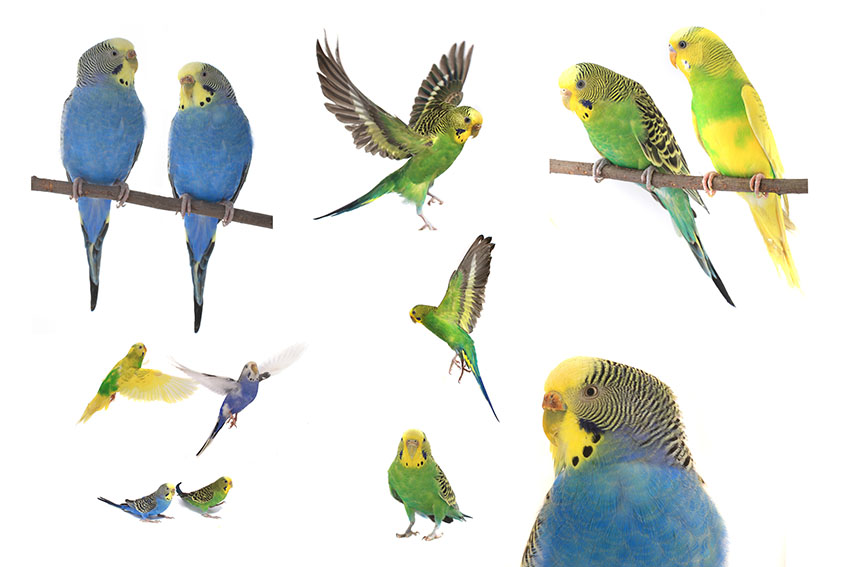 The budgie - one bird, many names!
Other, less common names for the bird include canary parakeet, warbling canary parrot, grass parakeet, warbling grass parakeet (John Gould's preferred name for them), zebra parrot, scallop parrot, and the wonderfully unimaginative flight bird. In their native Australia the name budgerigar has various forms in the native tongues of that continent, including betcherrygah, budgerygah and gidjirrigaa.
Budgie in Other Languages
If you know of any translations not included in the following list, let us know!
Africaans: Budjie
Alemannic German: Wällesittich
Albanian: lloj papagalli
Arabic: الطائر الطيب
Basque: Perikito
Belarusian: Хвалісты папугай
Bulgarian: Вълнист папагал
Catalan: Periquito
Chinese: 虎皮鸚鵡
Croatian: Tigrica/papigica
Czech: Andulka/Andulka vlnkovaná
Danish: Undulat
Dutch: Grasparkiet
Estonian: Viirpapagoi
Filippino: Maikling loro
Finnish (Suomi): Undulaatti
Flemish: Grasparkiet
French: Perruche Ondulée
Gaelic (Irish): Pearaicít Astrálach
Gaelic (Scots): Buidsidh
Galician: Periquito
Georgian: ხუჭუჭა თუთიყუშ (Khuchucha t'ut'iqushi)
German: Wellensittich
Greek: παπαγαλάκι
Gujarati: ઑસ્ટ્રેલિયન પોપટ
Haitian Creole: Peruch
Hebrew: תוּכִּי קָטָן
Hindi: पशु
Hungarian: Hullámos papagáj/törpepapagáj
Icelandic: Gári
Ido: Perucho
Indonesian: Burung kesturi
Italian: Pappagallino ondulato
Japanese : セキセイインコ
Kazakh: Бұйра тоты
Korean: 잉꼬 (ingkko)
Latvian: Pundurpapagailis
Lithuanian: Banguotoji papūgėlė
Macedonian: Тигрица (птица)
Malay: Budgerigar
Navajo (Diné bizaad): Tsídii yáłti'í yázhí
Norwegian: Undulat
Persian: مرغ عشق
Polish: Papużka falista
Portuguese: Periquito-australiano
Punjabi (Western): بجریگر
Romanian: Peruş
Russian: Волнистый попугайчик
Sami: Unduláhtta
Serbian: Аустралијска тигрица (Tigrica)
Slovak: Papagájec/Andulka
Slovenian: Skôbčevka
Spanish: Periquito
Swedish: Undulat
Tagalog: Budgerigar
Telugu: మెలోప్సిట్టాసిని
Thai: นกหงส์หยก
Turkish: Muhabbet kuşu
Ukrainian: Хвилястий папужка
Urdu: بجریگر
Vietnamese: Vẹt yến phụng
Welsh: Bwji
Western Mari: Коэлӓ пынан попугайчик