A Guinea pig doesn't require a particularly huge area in order to be happy and fulfilled. They are sociable animals, and tend to stick close in loose groups as they venture around their runs, never venturing too far from a familiar bolt-hole. But this doesn't mean they want to stay huddled up with their neighbours all day – they still need a bit of room to roam.
Some Guinea pig 'starter kits' offer hutches that are far too small, so it's best not to be tempted by something which, although cheap and cheerful, is entirely unsuitable. A traditional-type wooden hutch containing two Guinea pigs should have a minimum floor area of 0.72 square metres – that's 120 cm long by 60 cm wide (and at least 45 cm high). However, it's better if you can accommodate something closer to one square metre.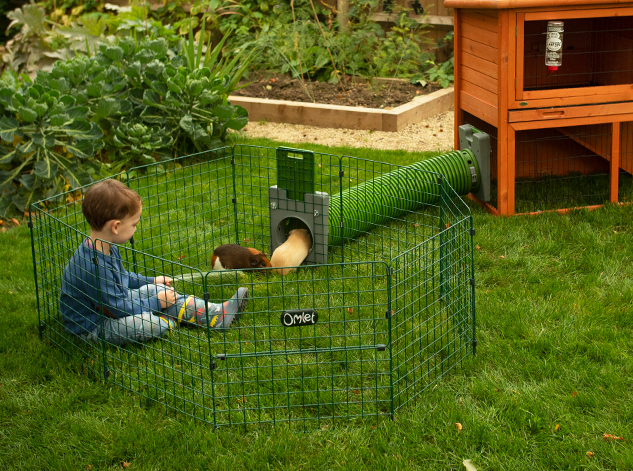 You can make your pets' living space more interesting by linking guinea pig hutches and runs
The The Eglu Go Hutch for Guinea pigs is ideal. It has the advantage of combining indoor and outdoor space – suitable for all weathers – and connects easily to a garden run or playpen via the The Zippi Guinea Pig Tunnel System.
The living space can be supplemented with outdoor runs. These can be as large as your garden allows. But bear in mind that, for a Guinea pig, two square metres of run is a big space. They don't have the urge to roam over vast areas, and a run of one square metre, with bits of Guinea pig pipe, hidey holes and feeding stations installed, is perfect.