Linking Guinea pig hutches and runs with a tunnel system can transform a simple setup into something much more interesting. With a bit of planning, you can create a stimulating environment for your pets.
At its most basic, a Guinea pig activity tunnel can be a single link between the hutch and a run. The number of extra Guinea pig pipe sections you add will be dictated by the space available. The pipes can take a direct route to the run, or can follow the line of a fence, hedge or flowerbed. They can be tucked way in the undergrowth, or be the dominant feature of a lawn.
So, the first thing to work out is the route the Guinea pig tube will take from hutch to run. What's the best way to tackle corners – follow the angles, or cut across? How about more than one T-junction to make the Guinea pigs' underground adventures even more fun?
Omlet's Zippi Guinea Pig Tunnel System is as flexible as you need it to be. The sections are easy to clip together and attach to hutches and runs, and can be moved with ease, so you will be able to reposition them when you need to mow the lawn, or if you simply fancy a change.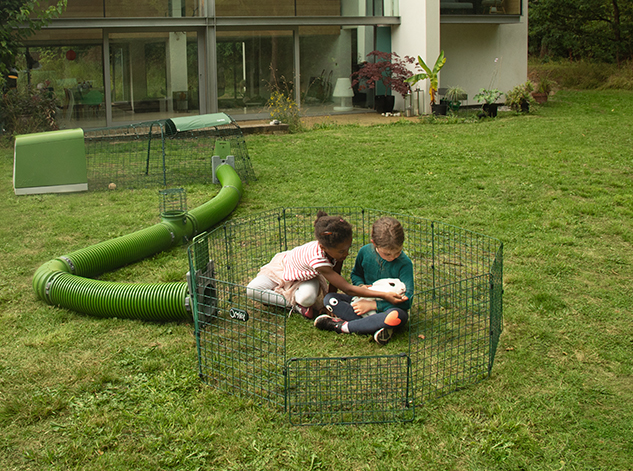 Modular Guinea Pig Tunnels
With a bit of space and a bit of planning, you can have a lot of fun with a tunnel system.:
Use T-junction sections to link a hutch to two runs, or a run and a playpen, at the same time.
Raise the whole tunnel system from the lawn, patio, or even flowerbed, using steel Zippi support loops.
Make a Guinea pig trail. Sections of the pipe could lead to a run that contains a standalone tunnel, and an exit pipe which travels on to another run or playpen.
If you have more than one hutch, you can link them all to a central run or feeding area.
Sections of tunnel could climb or spiral up to a raised feeding station, or up a series of terraces in a hilly garden, or down from a raised hutch to ground level.