Hybrid
Breed Rating (15 Reviews)
| | |
| --- | --- |
| Appearance | |
| Friendliness | |
| Hardiness | |
| Egg | |
| Garden | |
History
Hybrid birds are highly cross bred chickens. Most hybrids are based on the classic Rhode Island Red, Maran, Plymouth Rock, Sussex or Leghorns. The development of hybrid chickens started in the 1950's when there was a hugh growth in the demand for eggs and meat. The most common hybrid is the warren hen which is a classic brown hen. In recent years however there has been a larger variety of hybrids becoming available which have both good egg layer ability and the looks to match.
Behaviour
Typically the chickens have been breed to be good egg layers, friendly and docile - rather than having a splendid display feathers common in pure breed hens.
Varieties
There are a wide variety of hybrid birds available including Black Rock, Maran Cuivre, Bovans Nera, Calder Ranger, Goldline, Meadowsweet Ranger, White Star, Sussex Star, Bluebelle, Speckedlys, Isa Brown. Many of these varierties are breed by specific poultry suppliers.
Status
Common
Tweet
Your Pictures
Hybrid For Sale
Please note: All chickens listed here are for collection only. They cannot be delivered by the seller or by Omlet. The seller will send you their contact details to arrange payment and collection.
---
Various breeds/colours of POL hybrid chickens,
Description: We sell a variety of POL hybrid hens. Prices start from £13.50 for the ISA Brown, and then £16.00 for Belle Blue, Bovan Nera, Sussex Hybrid, plus many others. Why not see my website www.southmead-poultry.co.uk for further details. Viewing is by appointment only so why not give us a call on 07963 013597 today?
---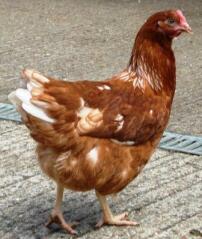 16 week point if lay chickens
Description: We sell a variety of point of lay, fully vaccinated chickens, plus housing, accessories and feed. Plus we also do hen holiday/boarding. Why not visit our website for more details. We are based in Leatherhead, Surrey.
---
POL HYBRIDS FOR SALE
Description: We have a selection of POL hybrids for sale that lay various coloured eggs. These make great pets and are good with children. They will adapt to most management systems. See the Surbiton Poultry website for other breeds and more info..
---
Dominant Sussex Hybrids
Description: Dominant Susses Hybrids, A hybrid very similar to the old native Light Sussex, suited to free range and garden situations. They have high egg productivity (>300 brown shell eggs
---
Dominant Blue Hybrids
Description: The Dominant Blue is result of crossing synthetic original paternal stock Blue Plymouth Rock with Barred Plymouth Rockmaternal stock. An attractive blue/grey coloured layer suitable for garden or free range production.
---
Dominant Leghorn
Description: Dominant Leghorn is produced from 4 lines of White Leghorn. It is totally white feathered and produces white eggs
---
Latest Reviews For Hybrid (5 of 15)
---