Silkie
Breed Rating (71 Reviews)
| | |
| --- | --- |
| Appearance | |
| Friendliness | |
| Hardiness | |
| Egg | |
| Garden | |
History
The origin of the Silkie hen is uncertain although they have been around for several hundred years. It is thought that they originated in India, China or Japan and they arrived in Europe around 200 years ago where they were sold as crosses between rabbits and chickens! They are a lightweight chicken with a broad, stout looking body which is covered in fine fluffy feathers. They have short, rather ragged looking tails and the head is short and neat with an upright and full crest. The beak is short and broad, the face smooth and the eyes black and bright. The comb is circular and described as a mulberry comb and the wattles are concave, semi circular and not particularly long. The legs are purplish blue in colour and they have a fifth toe.
Behaviour
Silkies do tend towards broodiness and make wonderful mothers despite being rather poor layers. They are calm, friendly, trusting and rather lively birds which are unable to fly so can be kept with very low fencing and they also do very little damage to the garden. They begin laying around Christmas when the hen will happily sit on a clutch of eggs and will still go broody even if her eggs are removed! Silkies are frequently used as foster mothers for other hen\'s eggs. They stop laying altogether during the summer months. They don\'t have waterproof feathers so they need to be kept in dry conditions but require little room so can be kept in smaller runs. They are rather susceptible to scaly leg but are robust little chickens and can withstand the cold very well. The black skinned and black boned silkie is considered a delicacy in China where they believe that the ground up bones have special healing properties. They have a lifespan of around 9 years and can be tamed and considered a real pet which makes them especially suitable for children.
Varieties
Black, blue, gold, white, partridge, triple laced partridge, triple laced silver partridge, grey, cuckoo, red and buff.
Tweet
Your Pictures
Silkie For Sale
Please note: All chickens listed here are for collection only. They cannot be delivered by the seller or by Omlet. The seller will send you their contact details to arrange payment and collection.
---
Silkie Point of Lay Chickens for Sale - Various Colours
Description: Gorgeous fluffy Silkie point of lay hens for sale - various colours available. Healthy and friendly. Wormed and vaccinated.
---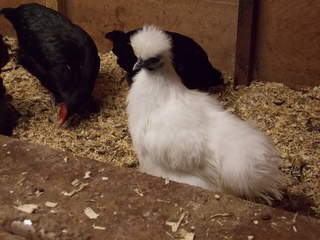 Silkie hens
Description: We have for sale some lovely POL Silkies in various colours, Various ages prices £35. visit our website at noddyspurebreeds.co.uk. PLEASE CONTACT BEFORE MAKING PAYMENT REGARDING STOCK.
---
Silkies - Hens ONLY All Colours black, red, gold, white etc.
Description: Silkie hens for sale 14 weeks old, vaccinated for Marek's, Coxy, Newcastle's and Infectious Bronchitis. Sexed at day old and cleared for Salmonella. Top quality Silkies!! Delivery available. We have many colours and varieties ranging from Black, Blue, White, Splash, Partridge and Cuckoo we also have Black and Blue with Gold Splashes. Stock is always subject to availability, please e-mail for current colours and ages available. Alternatively, search the web for PIPINCHICKSILKIES and go to our web page.
---
Golden Miniature Cockerel For Sale
Description: I hatched this little fellow, last August. He is fertile as I hatched eggs in February and March 2016 Lovely little temperament and kind to his ladies Due to ill health need to reduce numbers
---
Golden Miniature Silkie Cockerel
Description: I have a lovely little cockerel ready for his own girls. Raised on my Leicestershire smallholding, Hatched August 2015
---
Silkie cockerels for sale
Description: Gold and brown coloured miniature Silkies in need of a new home with their own hens Lovely temperaments
---
Brown Miniature Silkie Cockerels For Sale
Description: I have 5 brown Silkies to chose from, which were hatched in 2015. I also have golden, brown and white Silkies hatched this August, 2016
---
Bantam breeding cockerels
Description: Wonderful range of colours to chose from. Vigorous healthy cockerels. Photos via email.
---
Blue Splash & Blue/Gold Splash POL ready soon
Description: Gorgeous Blue Splash & Blue / Gold Splash Silkies ready from mid April. Collection only from Ayrshire, Scotland 07769219052
---
Latest Reviews For Silkie (5 of 71)
---
Breeder Clubs for Silkie
---