Pekin Bantam
Breed Rating (59 Reviews)
| | |
| --- | --- |
| Appearance | |
| Friendliness | |
| Hardiness | |
| Egg | |
| Garden | |
History
The first Pekins are said to have been stolen from a private collection held by the emperor of China in Peking around 1860. Another story states they were imported from China around 1830-1840 and were presented to Queen Victoria. These imported birds were then crossed with other breeds and are now know today as Pekin Bantams.
Behaviour
The Pekin is a very gentle bird. They are good layers of small eggs but are broody, making them great mums. They make excellent pets for children as they are tame. They settle very well and require little space. Pekins can look rather pale and anaemic if not allowed on grass to forage. They tend not to scratch around in flower beds so are good birds to keep in an urban garden. They are normally a robust and long-lived bird that loves company.
Varieties
Pekins are a very popular breed here in the UK. They are available in a whole range of colours. Lavender, blue, silver partridge, red partridge, blue mottled, Columbian, cuckoo, mottled, buff, black, white and wheaten. With all their feathers they actually look larger than they really are. All colours have short legs and feathered feet and toes.
Tweet
Your Pictures
Pekin Bantam For Sale
Please note: All chickens listed here are for collection only. They cannot be delivered by the seller or by Omlet. The seller will send you their contact details to arrange payment and collection.
---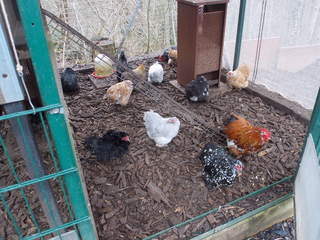 Pekin Bantam - Pullet - various
Description: We have for sale some lovely fluffy Pekins growers. Prices depending on age, just call or message first, or visit our website at noddyspurebreeds.co.uk. PLEASE CONTACT BEFORE MAKING PAYMENT REGARDING STOCK.
---
PEKIN BANTAMS FOR SALE
Description: These pretty little bundles of feathers make great pets and are good with children. In return for all the affection you will show them they will reward you with a steady supply of little eggs throughout the spring and summer months. We have 15 colours and various ages available. See website for more details
---
Pekin Bantam Garden Chickens
Description: Pekin Bantams Millefleur, lavender, partridge, frizzle, mottled, buff etc. Up to 18 weeks, I guaranteed no cockerels. Great garden chickens as they have feathered feet and will do very little damage to your garden, good layers and easy to tame, good with children. Just starting out with chicken keeping then these are the easiest birds to look after, smaller and generally quieter and docile than hybrids. Wide range usually available please only contact me if you are a serious buyer.
---
Lavender Peking bantams
Description: 2 beautiful lavender Peking bantams for sale. Not sexed as yet.
---
Latest Reviews For Pekin Bantam (5 of 58)
---
Breeder Clubs for Pekin Bantam
---