Pekin Bantam
Breed Rating (59 Reviews)
| | |
| --- | --- |
| Appearance | |
| Friendliness | |
| Hardiness | |
| Egg | |
| Garden | |
History
The first Pekins are said to have been stolen from a private collection held by the emperor of China in Peking around 1860. Another story states they were imported from China around 1830-1840 and were presented to Queen Victoria. These imported birds were then crossed with other breeds and are now know today as Pekin Bantams.
Behaviour
The Pekin is a very gentle bird. They are good layers of small eggs but are broody, making them great mums. They make excellent pets for children as they are tame. They settle very well and require little space. Pekins can look rather pale and anaemic if not allowed on grass to forage. They tend not to scratch around in flower beds so are good birds to keep in an urban garden. They are normally a robust and long-lived bird that loves company.
Varieties
Pekins are a very popular breed here in the UK. They are available in a whole range of colours. Lavender, blue, silver partridge, red partridge, blue mottled, Columbian, cuckoo, mottled, buff, black, white and wheaten. With all their feathers they actually look larger than they really are. All colours have short legs and feathered feet and toes.
Tweet
Your Pictures
Pekin Bantam For Sale
Please note: All chickens listed here are for collection only. They cannot be delivered by the seller or by Omlet. The seller will send you their contact details to arrange payment and collection.
---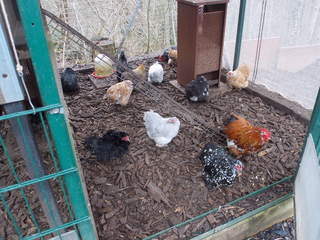 Pekin Bantam - Pullet - various
Description: We have for sale some growers-pol Pekins, plenty of different colours, just call or message first, or visit our website at noddyspurebreeds.co.uk. PLEASE CONTACT BEFORE MAKING PAYMENT REGARDING STOCK.
---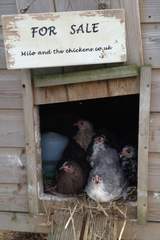 Gorgeous Pekin bantams chickens, Tonbridge, Kent.
Description: Currently running waiting list for Pekin bantams. They do sell very quickly, so please contact me if you would like me to keep you posted when some become available. Pekins are ideal if you want to keep a few back garden chickens. They have a lovely nature and their small size makes them very easy for children to handle. Our cottage farm is tucked away in a rural area of Tonbridge, Kent. For all details and lots of photos see our website miloandthechickens.co.uk. To add your name to the waiting list just send a quick TEXT .. 07958 127 327.
---
3 golden girls
Breed: Pekin Bantam
Age: 10 Weeks
Seller: Valatcam
Seller Rating: No reviews yet
Location: Camberley Show on a map
Description: I have three little golden girls, who need new homes, one of them may be spoken for already. They are tame, good natured, well grown and very well feathered. The price is per bird.
---
Latest Reviews For Pekin Bantam (5 of 58)
---
Breeder Clubs for Pekin Bantam
---