Rhode Island Red
Breed Rating (25 Reviews)
| | |
| --- | --- |
| Appearance | |
| Friendliness | |
| Hardiness | |
| Egg | |
| Garden | |
History
The Rhode Island Red was developed in the US state of Rhode Island in the 1890s. Crossing a large variety of other breeds including the Buff Cochin, Langsh, Black Red Malay, Hamburgh and Rose combed Leghorns together created the Rhode Island Red. The Rhode Island is another bird created for both meat and eggs, to satisfy the demands of the American population. The breed arrived in the UK in 1903 and became extremely popular very quickly. The Rhode Island Red is possibly the best-known breed in the world today. The Rhode crossed with a Sussex forms the basis of most of our present day hybrids.
Behaviour
Rhode Islands are classed as a heavy breed, but are active. They enjoy foraging on grass. They are bright and alert but at the same time quiet. They make great pets and are relatively hardy. They will produce a large amount of brown eggs a year.
Varieties
The Rhode Island is a Red bird. The plumage is a dark rich glossy red in the male, being slightly less glossy in the female. The male should only have black in his wings and tail and the female the same but can have black on her neck. The body is broad and deep and oblong in its shape. It has a broad flat back with a medium sized tail. The earlobes are red in colour as are the eyes. They have yellow legs
Tweet
Your Pictures
Rhode Island Red For Sale
Please note: All chickens listed here are for collection only. They cannot be delivered by the seller or by Omlet. The seller will send you their contact details to arrange payment and collection.
---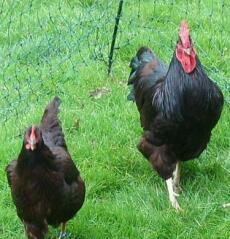 Rhode Island Red large fowl
Description: Growers-pol Rhode Island Reds, just call or message first, or visit our website at noddyspurebreeds.co.uk. PLEASE CONTACT BEFORE MAKING PAYMENT REGARDING STOCK.
---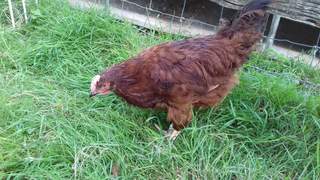 Young Rhode Island Red cockerel for sale
Breed: Rhode Island Red
Age: 12 Weeks
Seller: Sam Goulder
Seller Rating: No reviews yet
Location: Herstmonceux Show on a map
Description: I have a purebred Rhode Island Red cockerel for sale at £10 in the East Sussex area. He does look quite tatty at this age but will grow into a handsome cockerel. Please bring a box/carrier when collecting. For his current age message me.
---
Latest Reviews For Rhode Island Red (5 of 25)
---
Breeder Clubs for Rhode Island Red
Rhode Island Red Club
Telephone: 01364 72394
Scottish Rhode Island Red Club
Telephone: 01555 840867
---