Sussex Bantam
Sussex Bantam
Breed Rating (10 Reviews)
| | |
| --- | --- |
| Appearance | |
| Friendliness | |
| Hardiness | |
| Egg | |
| Garden | |
History
The Sussex Bantam originates in Britain in around 1920 and is a dwarfed version of the Sussex. It has a rectangular body shape, medium long tail feathers, broad, deep breast, red earlobes and a featherless face. The comb is medium sized and single and the eye is red. The Sussex Bantam has featherless yellow legs and 4 toes.
Behaviour
They have a placid nature and are adept at coping with bad weather. They are easily tamed and will do anything for a treat. They make superb pets for children as they are affectionate and rarely show aggression in any form. They are excellent layers and often continue producing eggs throughout the winter. The hens make excellent broodies and wonderful mothers.
Varieties
Columbian, buff Columbian, red Columbian, grey, silver, red porcelain, white and Columbian blue marked.
Tweet
Your Images
Sussex Bantam For Sale
Please note: All chickens listed here are for collection only. They cannot be delivered by the seller or by Omlet. The seller will send you their contact details to arrange payment and collection.
---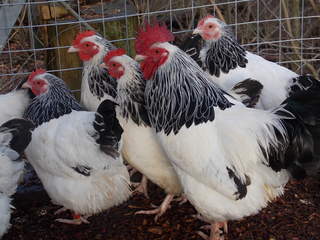 Sussex Bantam - Pullet - Light Sussex Bantam
Description: We have been breeding sussex hens now for 8 years and these birds are the best our breeding pen have produced. These are all nice sturdy birds all with solid collars and now in full lay. We are in most days just call or message first, or visit our website at noddyspurebreeds.co.uk. PLEASE CONTACT BEFORE MAKING PAYMENT REGARDING STOCK.
---
Light Sussex POL
Description: Young chicks, one of many bantams we hatch out all the time-but call first to make sure we have a good supply
---
Speckled Sussex Bantam Cockerels for sale
Description: Speckled Sussex Bantam Cockerels For Sale 12 weeks old "The Sussex Bantam is a very beautiful breed, with a very placid nature. They are easily tamed and make superb pets, as they are affectionate and rarely show aggression in any form." Very healthy and handsome young men in search of the right flock of ladies to look after and protect. A cockerel makes an excellent addition to a flock of laying hens - they are very good at keeping the peace and stopping any arguments. They will call hens over when they find worms and other tasty morsels and will even sit in the nest to keep them company whilst they are laying. They are very good at keeping watch and protecting the flock from danger, so the hens can relax and concentrate on more important things, like sunbathing, eating and occasionally laying eggs. Keeping a cockerel also means that you can hatch chicks from your own eggs to add to your flock in the future. Please contact me if you are interested in giving one a home.
---
Latest Reviews For Sussex Bantam (5 of 10)
---