Cream Legbar
Breed Rating (45 Reviews)
| | |
| --- | --- |
| Appearance | |
| Friendliness | |
| Hardiness | |
| Egg | |
| Garden | |
History
The Cream Legbar is a crested chicken which is a true autosexing breed which means that you can tell the sex of the chicks by the colour of the feathers. It is an old pure breed which originated in the 1930s as a cross between Brown Leghorns and Barred Rock with some Araucana blood in them. They are very firm, muscular birds with a wedge shaped body which is broad at the shoulders and tapers towards the rear. The wings are large carried close to the body and the back is long and flat while the tail is held at 45° to the back. The head has a strong beak and large single erect comb with five to seven even spikes. They have a crest which lies at the back of the head behind the comb which is small in the male and larger in the female. The face is smooth with pendant cream or white ear-lobes, long thin wattles and the neck is long and well feathered. They have a yellow beak, red face, comb and wattles. The yellow legs and feet are strong and unfeathered with four evenly spaced toes.
Behaviour
The male weighs in at 6-7½ lb and the female is around 4½-6lb.
Varieties
The male has cream barred neck hackles and the saddle hackles are cream barred with dark grey and have cream tips. The back and the shoulders are mostly cream barred with dark grey. The wings have dark grey barred primaries and secondaries with cream tips. The breast and tail are barred dark grey and the crest is cream and grey. The female has softly barred cream neck hackles. The breast is almost salmon coloured while the body is silver-grey with broad barring. The wings are speckled with grey and the tail is silvery grey with light barring.
Status
Fairly common
Tweet
Your Pictures
Cream Legbar For Sale
Please note: All chickens listed here are for collection only. They cannot be delivered by the seller or by Omlet. The seller will send you their contact details to arrange payment and collection.
---
Cream Legbar - Chicks-Guaranteed Female
Breed: Cream Legbar
Age: 0 Weeks
Seller: DTHART1
Seller Rating: No reviews yet
Location: Gloucester Show on a map
Description: Cream Leg bar chicks available hatching on 14th March (available 1 -10 days old) OFF HEAT ALSO AVAILABLE. Very good example of breed from good bloodline stock. £10.00 EACH
---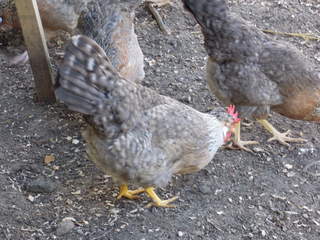 Cream Legbar -growers - crested, blue egg layer
Description: Cream Crested Legbars, 12-14 weeks old, just call or message first to arrange a visit, or visit our website at noddyspurebreeds.co.uk. PLEASE CONTACT BEFORE MAKING PAYMENT REGARDING STOCK.
---
Hatching Eggs
Breed: Cream Legbar
Age: 0 Weeks
Seller: DTHART1
Seller Rating: No reviews yet
Location: Gloucester Show on a map
Description: 12 Fertilised Cream Leg bar Hatching eggs from good quality stock. I will post at extra cost if required. The eggs are are pale blue in colour & chicks (sex) can be identified immediately after hatching. Happy Hatching!!!
---
Cockerel
Description: Two spanking Cream Legbar cockerels, one born and bred and hand-reared at home, the other bought in 2015 from a top supplier. Magnificent specimens.
---
Crested Cream Legbar Cockerels.
Breed: Cream Legbar
Age: 11 Weeks
Seller: Tim Cooke
Seller Rating: No reviews yet
Location: walthamstow Show on a map
Description: 10 weeks old and just started to crow so they've gotta go. I have four pure breed cockerels, all very tame. Raised naturally under a young mum this spring.
---
Fertilised Eggs
Description: 6 eggs for £10 plus postage and packing.
---
Latest Reviews For Cream Legbar (5 of 45)
---